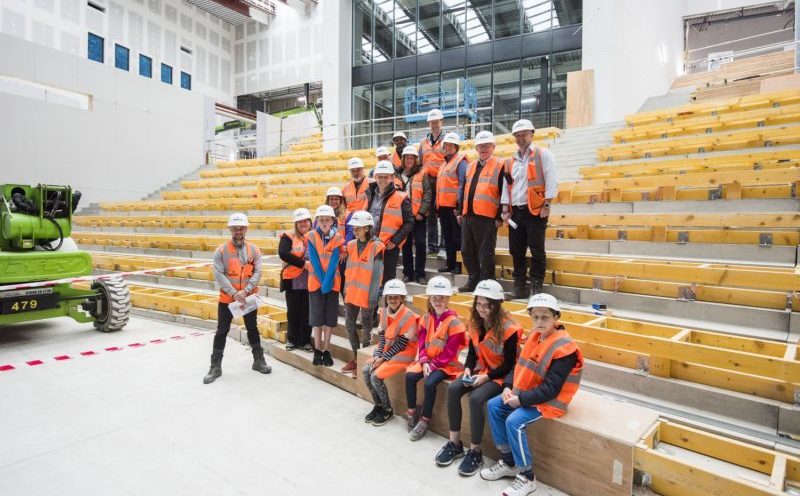 CONSTRUCTION workers delivering the new £32.5 million school at Bertha Park in Perth recently welcomed 200 visitors to the site, as part of the annual Doors Open Days festival.
Robertson is main contractor on the project, which is being led by hub East Central Scotland on behalf of Perth & Kinross Council. Construction work got underway last November and is set to end in time for the 2019/20 school term.
Members of the public and future pupils and teachers were treated to an access-all-areas tour.
Kevin Dickson, managing director for Robertson Tayside said, "Initiatives such as Doors Open Day are a fantastic way of engaging with local people, while providing closer visibility of the developing construction and architecture. The new school at Bertha Park is especially significant given its unique status as an entirely new school and not a replacement of an existing one, so it's important to Robertson to allow as many people as possible to discover more about the project and all the aspects involved in bringing it together.
"We had a great turnout with future pupils, parents and teachers all keen to catch a glimpse of features including the sports hall, gym, full size grass and synthetic football pitches and the attached multi-use games area."
Dr Gavin Lindsay, Doors Open Days coordinator for Perth & Kinross added, "It's not every day that you get the opportunity to step foot on an active construction site and rarer still to see the assembly of a new school up close. We were delighted to work with Robertson to bring 'behind the scenes' access to one of Perth's newest public buildings and allow the people of Perth and Kinross the chance to appreciate the architecture of education as it is being realised."