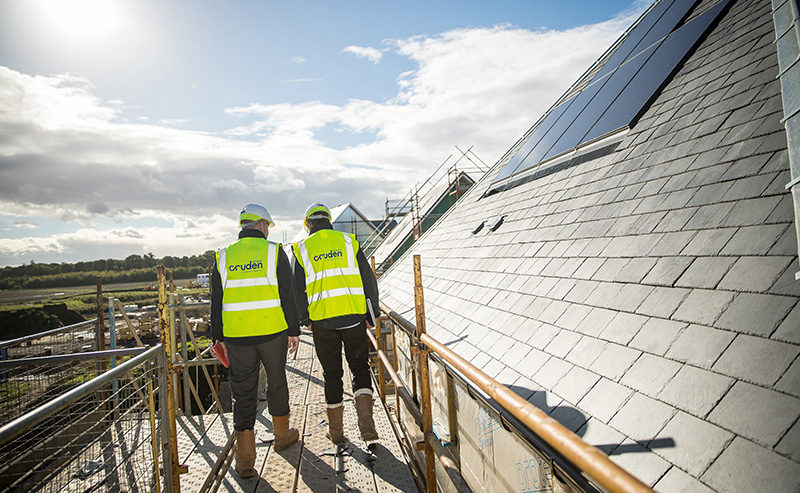 THE Cruden Group has reported a slight dip in both turnover and pre-tax profit as part of its audited results up to 31 March 2018.
Group turnover was £188.6 million (2017: £200.6 million), while group profit before tax was £9 million (2017: £10.5 million).
The group has now enjoyed profitable trading for 19 consecutive years and described the figures as providing a "stable platform" for future growth.
Cruden attributed the reduction in turnover to the lower volume of private homes sold by the group in the year – falling to 158 from 280 in 2017. This decrease in sales was described as a "simple consequence of timing in the development process", with Cruden adding that the firm fully anticipates this number exceeding 220 in the year to 31 March 2019. The average house sale value increased to £270,000 (2017: £226,000).
Construction turnover rose by 4% to £167 million (2017: £160 million) with activity concentrating on building affordable homes for housing associations, local authorities and other publicly funded clients. Cruden said its forward order book in this activity has continued to grow, with headcount increasing to 655 since March.
Kevin Reid, Cruden group managing director said, "To have had 19 consecutive years of profitable trading is a tremendous achievement, especially against the challenging economic backdrop we've had during this period. Despite unsettled economic conditions, demand in the housing market remains encouraging and we continue to see strong interest in our diverse range of quality, affordable and energy efficient family homes. The continued availability of Help to Buy (Scotland) has also been beneficial to our first-time buyers and has given them a welcome first step on to the housing ladder.
"We have a strong forward order book and this will generate increased levels of activity in the construction of much needed affordable housing for our clients, and their prospective tenants. The outlook looks positive for the year ahead and I expect our turnover to increase in line with this, and with our own exciting future plans for our next phase of private housing developments in key locations across central Scotland.
"The skills shortage remains an industry-wide issue, so ongoing recruitment, training and skills development is a key focus at Cruden. We are actively seeking motivated people at all levels within the business to contribute to our future growth and are delighted with our increased complement of 90 apprentices in training at the Cruden Academy."