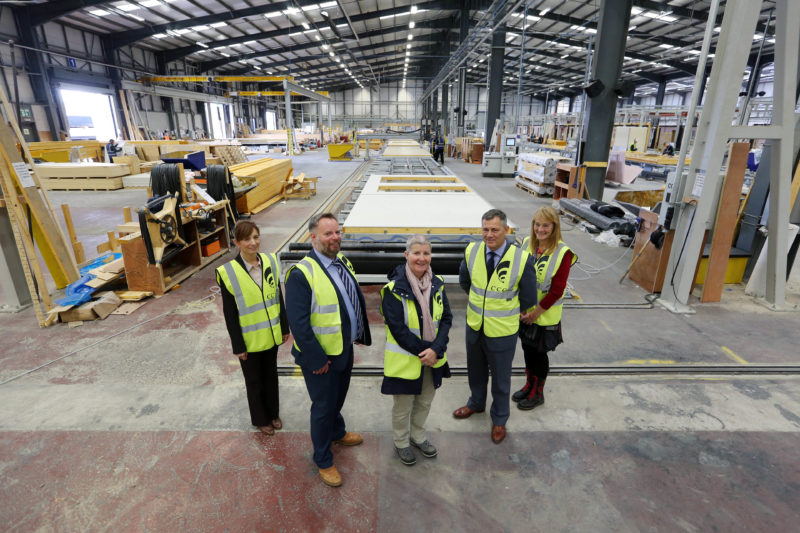 CCG has been appointed by West Dunbartonshire Council to build over 300 new affordable homes in the area.
Work is expected to start in the coming weeks, with the firm taking on sites including St Andrew's School in Clydebank, Creveul Court in Alexandria Town Centre and the former Haldane Primary School site in Balloch.
In total, CCG will build 321 homes including two, three and four-bedroom semi-detached houses, disabled bungalows, flats with disabled access, one-bedroom cottage flats and three-bedroom flats.
As part of the deal, the company will provide a number of community benefits including work placement opportunities for 30 people, 16 new jobs created and a further 22 people expected to complete apprenticeships during the course of the work.
The cost of the developments will be £42.5million, and the appointment of CCG will allow the council to unlock a £19 million Scottish Government grant.
Councillor Diane Docherty and councillor Caroline McAllister, the convener and vice convener of housing and communities, recently visited CCG's offsite manufacturing facility, CCG OSM, to see how the homes would be manufactured. Councillor Docherty said, "As a council we are committed to providing good quality accommodation to our residents, and have pledged to build 1000 energy-efficient homes by 2021. The appointment of CCG takes us ever closer to that target and I am looking forward to see work beginning on the various sites across West Dunbartonshire."
CCG director Calum Murray added, "The strategic partnership between CCG and West Dunbartonshire Council is a very exciting prospect for the region. We have delivered projects with council previously but the scale of the new affordable homes programme will ensure that many more people will benefit from CCG's capabilities in delivering modern, energy efficient homes as well as a legacy of jobs and training. We thank the council for showing this commitment and look forward to working together as we work to our first project start in mid-2019."