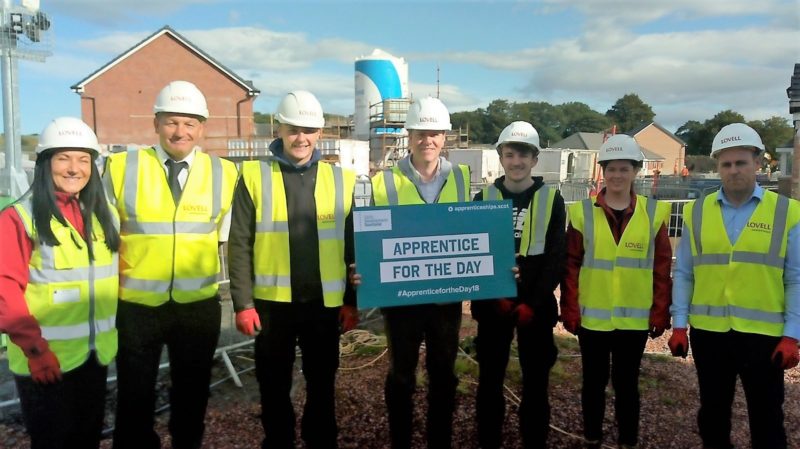 A local MSP became an apprentice for the day after visiting a Bathgate building site.
Gordon Lindhurst, a Lothian Region MSP, visited the 86-home Wester Inch development, which is being delivered by partnership housing specialist Lovell. During the trip, he shadowed apprentice joiners Jay Baker and Zach Brown as they carried out works under the instruction of subcontractor M&G Joinery. Mr Lindhurst also met with other members of the team and received a tour of the site.
The visit was organised by Skills Development Scotland as part of their Apprentice for the Day initiative, which aims to raise awareness of the contribution apprentices make to Scotland's economy.
Gordon Lindhurst MSP said, "I thoroughly enjoyed being an apprentice for the day and trying my hand at something a bit different to my daily work as an MSP. Jay and Zach are two very talented joiners and it was great to learn from them on the job. Their skills are hugely valuable for Scotland and its economy, where there is a real need for an ambitious housebuilding programme, including affordable homes. I'd like to thank Lovell and Skills Development Scotland for giving me the opportunity to learn more about work in this vital sector."
Kevin McColgan, interim regional director at Lovell added, "We would like to thank Mr Lindhurst for visiting our Wester Inch development as part of Skills Development Scotland's Apprentice for the Day initiative. We were pleased to be able to give him the chance to experience life as an apprentice joiner working as part of our talented team. We hope he enjoyed trying his hand at a different trade and has gained insight into the value our apprentices Jay and Zach bring to the site."
Katie Hutton, director of national training programmes at Skills Development Scotland commented, "The Apprentice for the Day challenge is a great opportunity to highlight the important role which work-based learning plays in Scotland's economy. Employers benefit from the programme just as much as the apprentices themselves, as they are able to access and train talent to suit their business needs. There has never been a better time to get involved with apprenticeships."