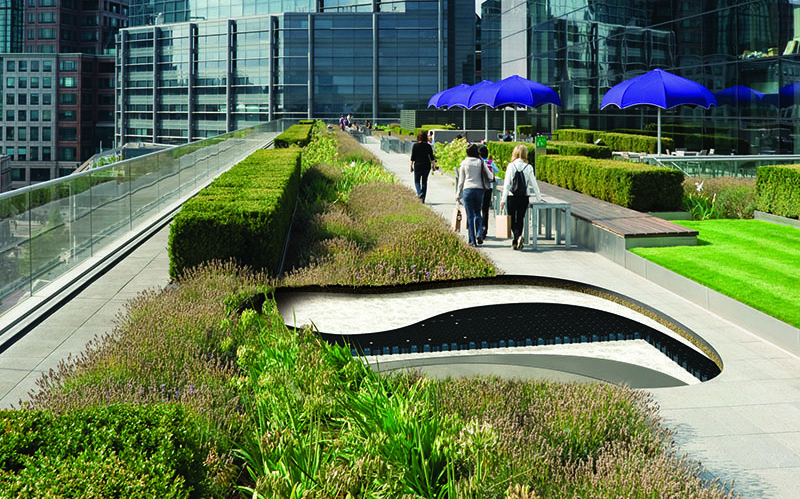 By Sean Robinson, specification director of water management solutions at Polypipe
SCOTTISH cities are rich in history and heritage, attracting international tourists and revenue. But with the Scottish urban population growing at record rates, with most residing in the central belt and urban areas, work needs to be done to ensure the high quality of life and living spaces in major towns is preserved.
To cater for the surge in city living, mixed-use properties have become increasingly common as developers look to exploit every square metre of land. However, this has come at the expense of green spaces, with air pollution, climate change and even mental health issues just some of the many effects regularly blamed on the built environment.
The emergence of Green Infrastructure (GI) is breathing new life into our concrete jungle, with the government and local authorities proposing major investment to make our cities and towns greener than ever before. Furthermore, the funding for these types of projects in Scotland is on the rise, with two competitive funds, the Green Infrastructure Fund and the Green Infrastructure Community Engagement Fund providing a combined £15 million for regenerating urban areas in Scotland that have low quality green space and an excess of derelict land.
But what exactly is GI and why is it important? Essentially, it is the preservation and development of natural spaces in urban areas. Parks, roof gardens and even cycle lanes can be considered part of the GI concept. They all represent elements of the natural world integrating with the urban environment. Ponds, reservoirs, football pitches and private gardens are all prime examples of Green Infrastructure in action, especially when all linked to a considerate stormwater management design.
Planners, architects, civil engineers and developers are beginning to harness GI's true potential. After decades of concrete, we are starting to see the next generation of green living emerge. For example, the £2 million investment in landscaping at Countesswells Woods in Aberdeen will create new green space for walkers, cyclists and horse riders to enjoy, is a great example of how careful landscape engineering can create long lasting living space for a whole community.
A big part of the success of a Green Infrastructure project can depend on the way the rainwater is managed in urban environments.
The proven products and technology is available and in use across Scotland. Geocellular systems such as Permavoid can collect rainwater and can then be used to irrigate the vegetation above, as part of a full 'blue-green' solution, while also providing additional urban green space and promoting plant growth, and have been installed in large scale projects such as The Royal Hospital for Children and Young People, Edinburgh.
While Polypipe designs and develop engineered Sustainable Urban Drainage Systems (SuDS), we understand that most sustainable schemes are those that use a combination of systems, not simply drainage systems for conveyance. Those that can irrigate green spaces using devices such as the Capillary Cone wicking technology which utilities the free water provided by rainfall to supply direct to the roots, is an integral part of our Permavoid system creating an integrated water management system. This provides multifunctional benefits not only for the drainage design, but usable benefits such as green spaces, amenity and biodiversity.
For generations, the wisdom was to manage water away from buildings. However, with urbanisation set to continue, a change in mindset to harness the water as a resource to keep Scottish cities green is emerging.