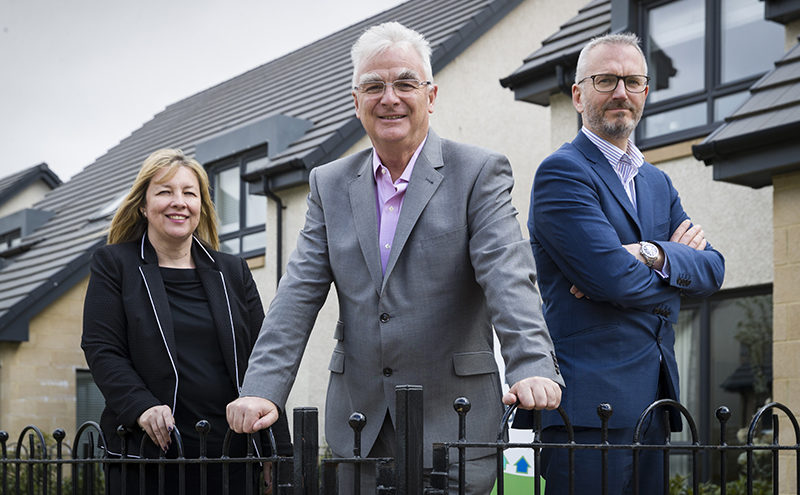 SPRINGFIELD Properties has reported another year of "strong growth", with the Elgin-based housebuilder recording a significant rise in turnover across both private and affordable housing divisions.
For the year ended 31 May 2018, the firm reported a 27% rise in turnover to £140.7 million, with pre-tax profit up 46% to £9.8 million. The number of new homes completed rose by 24.2% to 770.
Revenue in the private housing division increased by 17.9% to £101.9 million, while in the affordable housing division revenue is up a whopping 60.3% to £37.3 million.
Sandy Adam, executive chairman of Springfield Properties said, "In our first full year results since floating on AIM, I am pleased to report another year of strong growth for Springfield. We built more private and affordable homes than in any previous year. We made great progress with the development of our Village sites and we added significantly to our strong land bank, securing future growth. In particular, in the final month of our financial year, we extended our geographic reach with the acquisition of Dawn Homes, who share Springfield's core values of looking after customers and building high-quality homes.
"As we look to the future, I would like to thank those who have enabled us to reach this point. In particular, I would like to thank all of our 593 staff for their hard work and dedication, and I would like to welcome the Dawn Homes team, a strong addition who will ably develop our business in the west of Scotland. Springfield entered the new financial year in a stronger position than at the same point of the previous year. With an established pipeline, strengthened foundations and the long-term drivers showing no sign of abating, the Board is confident of delivering strong growth for full year 2018/19 in line with market expectations."
John Moore, senior investment manager at wealth management specialist Brewin Dolphin Scotland commented, "Springfield Properties has used its IPO as a foundation for future growth potential. These results show what may be the first signs of this on many levels: a 27% increase in revenue to £140.7 million, operating profit is up 37% to £10.7 million, and debt has been cut by more than half to £15.3 million. What differentiates this housebuilder from many others listed on the stock market is its significant social housing element, which offers the potential to provide growth that is much less sensitive to traditional influences in the sector, such as rising interest rates and second-hand house prices.
"Springfield's land bank is growing, which places it well for future growth, despite the potential for uncertainty in the housebuilding sector as flagged by the likes of the Governor of the Bank of England, Mark Carney."