PROCLADD (Scotland) teamed up with fastener provider SFS to help produce a striking appearance for the new £30 million Radisson Red hotel on the north bank of the River Clyde. Designed by ADF Architects, the ten-storey boutique hotel is situated close to Glasgow's events hub, incliding the Hydro. The hotel marks Europe's first new build for the Radisson Red brand and is the first hotel owned by Forrest Hotels, part of the Forrest Group.
Procladd was appointed by main contractor Balfour Beatty and started work on the 3,500m2 aluminium rainscreen system in May last year. This comprised a Booth Muirie Alucobond Spectra ACM panel system, finished in a Red Brass colour with iridescent "colour shift" properties.
SFS provided fasteners to match. The firm's self drilling SX3 fastener with irius head is described by SFS as having a "low profile, smooth, unblemished appearance that can be perfectly colour matched to any finish".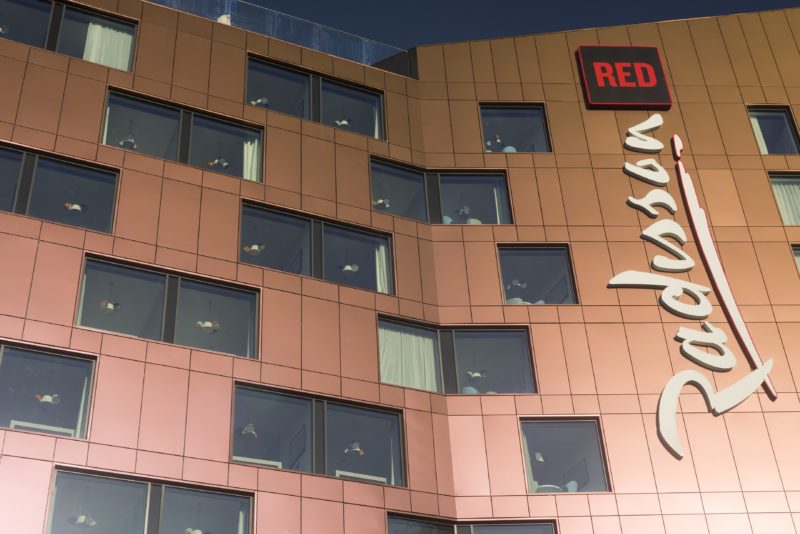 Grade A4 316 stainless steel fasteners were specified for their "enhanced performance and anti-corrosive properties".
Keith Burrell CEO and Stuart Tulloch managing director of Procladd (Scotland) stated, "It has been great to be involved in this prestigious project. The main feature of the building is the aluminium rainscreen system which is coloured in a unique and vivid red. SFS worked very closely with us to ensure that a perfect colour match was achieved, and we couldn't be happier with the results."