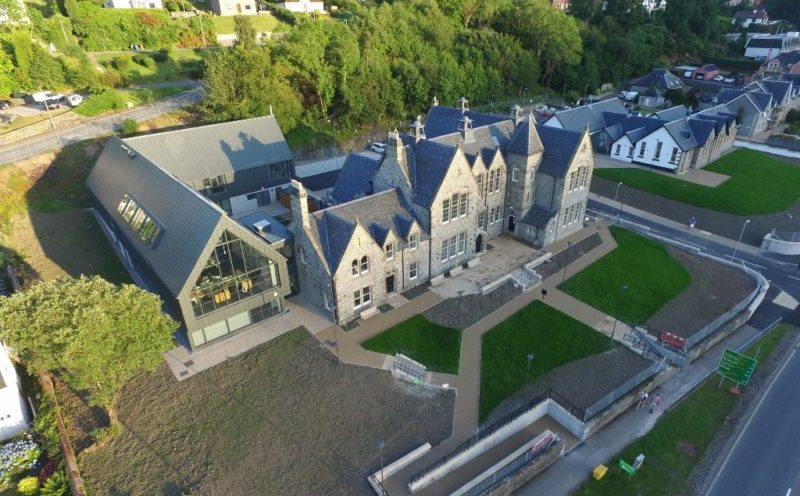 HIGHLAND Council has moved into its new office in Fort William, built by Elgin-headquartered Robertson, following a two-year renovation and construction programme.
Work on the office at The Charles Kennedy Building included a strong focus on retaining key features of the original Grade B listed building. Robertson said it was able to salvage a "sizeable quantity" of the existing slate and reuse it as part of the wider works.
These works took place alongside the construction of a new two storey extension called the Civic Hub, which includes a service point, registry office, council chamber, committee rooms and general offices.
Frank Reid, managing director of Robertson Northern said, "Working closely with The Highland Council on the construction of their new office has been a positive and collaborative effort that has resulted in a high quality refurbishment.
"The first phase of the project was handed over to the council in November 2017 and this second handover signals the culmination of months of hard work. Staff at the council can now look forward to getting settled in their new working environment.
"Our relationship with the council is strong and we continue to work with them on projects that are positively impacting on the lives of local people, including the recently completed Portree Gaelic Primary School and Merkinch Primary and Family Centre in Inverness."
The property was previously empty, having been damaged by a fire. Part of the construction programme involved restoring the original building as well as extending it to house the full council employee base.
The new space will be a hub for the Highland Council's housing, finance, development & infrastructure and chief executive services.
Lochaber councillor Allan Henderson, chair of The Highland Council's Environment, Development and Infrastructure committee added, "Highland Council welcome the completion of the project with Robertson and the transformation to what was an eyesore to the entrance to Fort William. The restoration and extension to the building have been well received locally and now provide a civic presence for the council serving the public of Lochaber."