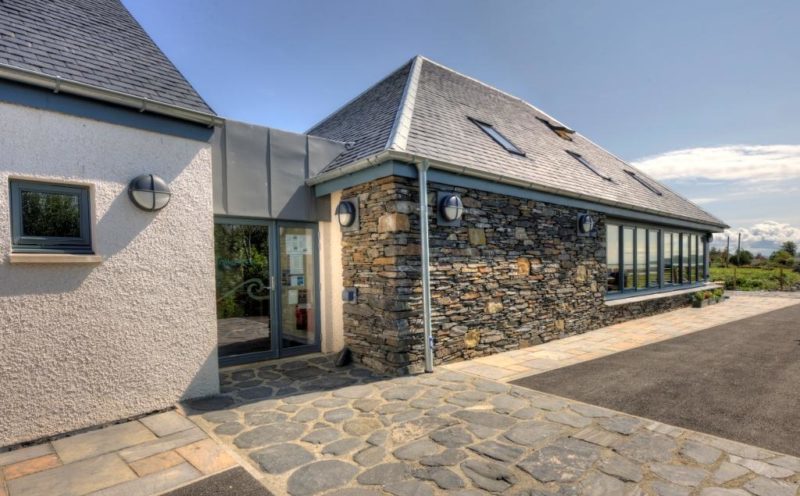 CUPA Pizarras' Heavy 3 roofing slate has been used to help replicate the appearance of Scottish slate on a new community hub project on the Isle of Luing.
Architect Shauna Cameron opted for the product for the Atlantic Islands Centre in Cullipool, where visitors can learn about the history of the area and surrounding Slate Islands.
The facility is situated on the periphery of an old quarry pond on the site of the Engine House, where Scottish slate used to be mined.
Shauna said, "We had originally planned to use second-hand slates reclaimed from buildings in the central belt of Scotland. However, with traditional second-hand Scottish slate now in short supply we thought it was only fair to save these for repair work on roofs of existing traditional buildings and use new slate for this new-build project.
"Due to the site's history we had to ensure that the roof reflected the slates that were previously mined there. Therefore we specified Cupa Pizarras' Heavy 3's to match the original blue-grey Luing/Easdale slate that had been used on the Engine House and can still be seen on cottage roofs in the island villages of Cullipool and Toberonochy."
Described as medium grained and black-blue in colour with occasional quartz grain detectable on the surface, Heavy 3 closely resembles traditional Highland slates.
Allan Liddell, area sales manager for Scotland added, "It's excellent that Cupa Pizarras' Heavy 3's were chosen for this project. Not only do they comply with the strict aesthetic requirements that were needed for this project but the slate also fulfils the practical requirements.
"The centre is extremely close to the coast so required a slate that could endure the high wind speeds and extreme weather conditions that are common throughout Scotland's islands.
"The Heavy 3's are impermeable to weather and extremely thick – 7-8mm – which makes them extremely tolerable to the Scottish elements. "