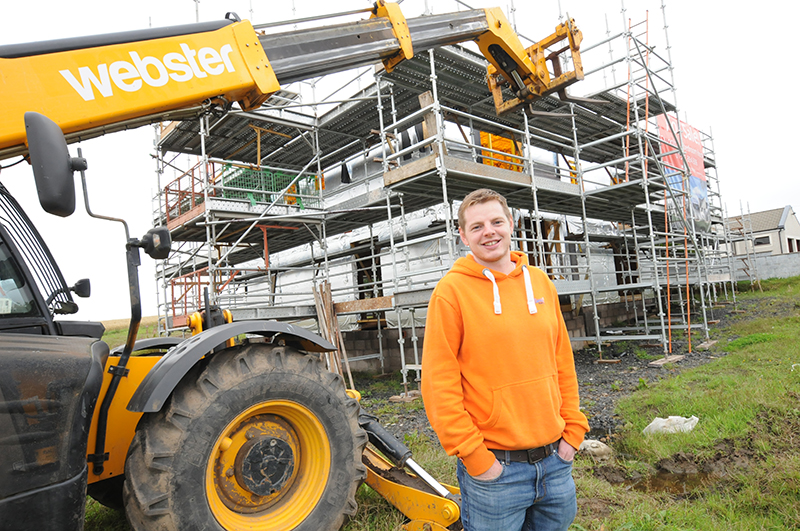 BEES, balloons and building sites might not sound like they've got much in common – but they're all in a day's work for Daniel Webster.
Daniel is the founder of Kinross-based Webster Group, a collection of companies involved in a range of activities from building high-end luxury homes and turnkey properties to offering adventure experiences, storage solutions and even honey obtained from a vast collection of beehives situated across Scotland.
Webster Group directly employs 26 people and its homes division has just launched its most ambitious development to date at Gairneybank in Kinross. This will comprise five high-spec houses with options including a games room. The exclusive development builds on previous sites in Cupar and Crook of Devon.
Running in parallel to this division is Webster Developments, which provides turnkey properties to private clients including housing associations.
Daniel is a joiner by trade who set up on his own after completing an apprenticeship seven years ago. He explained, "I started out doing smaller jobs for people around the area. There was a particular street in Kinross where I was asked to change some wardrobe doors. I ended up doing work for everybody in the street. The first person I ever did a job for sold her house and I got the job to build her new one. After building this one, this lead on to more new build projects.
"Things grew from there and I bought an office in Kinross High Street. I decided to demolish the back and put storage units in because, while we were building houses for customers, they never had a place to store their belongings."
Daniel offered to store customers' possessions for free as an added extra. Before long, the units were constantly full and he realised there was a high demand for this kind of service. The business started charging non-customers for long and short-term storage space and Webster Storage was born.
There can't be too many construction companies with a dedicated honey division. Webster has over 80 beehives dotted across Scotland, and Daniel runs this side of the business with his girlfriend Emily-Kate. The firm provides educational talks to schools about the importance of sustaining the nation's bee population, and plans to branch out further by offering lessons in beekeeping.
Daniel said, "Someone came into our office one day promoting eco-friendliness and why it was good to encourage bees.
"We decided to sponsor a couple of hives and I asked if I could put my branding on them. After that we decided to do it ourselves.
"Originally the plan was purely to sell honey. But it's not like having a product where, if you run out, you can go to your supplier for more. You can't force bees to make honey so we were constantly running out of stock. We decided to go into the educational side of things. We get schools to sponsor hives, paint them and Mike, our beekeeper, gives lessons."
A conversation between Daniel and his girlfriend around advertising led to the creation of another division – Webster Adventures. What started out as an idea to promote the Webster brand by putting a logo on a hot air balloon has now resulted in Daniel obtaining an operator's licence to provide bespoke balloon flight experiences.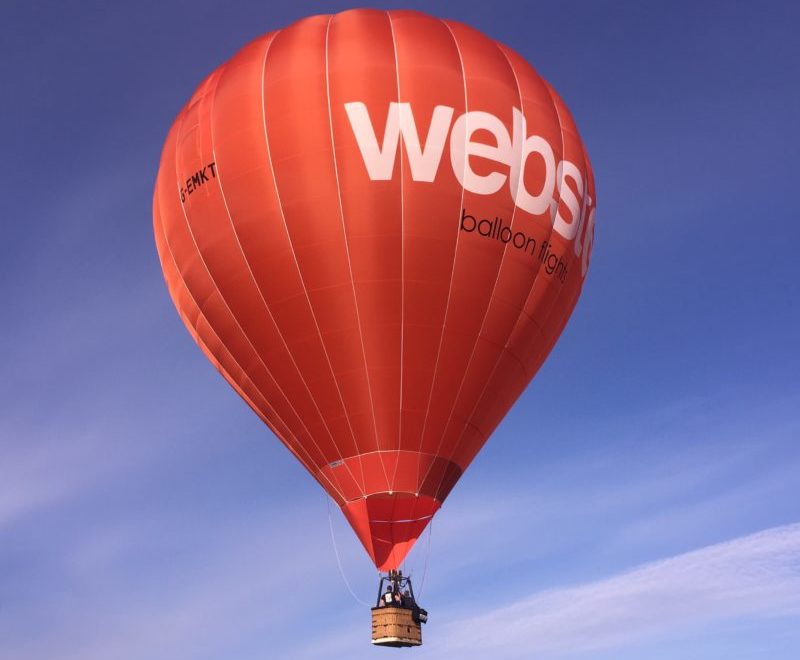 The cornerstone of the Webster business, however, is housebuilding.
"I've always been building stuff," Daniel added. "When I was young I built treehouses.
"The developments side of the business started in 2011 and involves building houses for clients.
"We decided to start our own developments so in 2014 we started Webster Homes. Our first development was an old church, which we bought and converted into six apartments. We had to stop and start because we didn't have the money. The banks weren't interested so we'd do deals to try and get money in."
Daniel cited one example of selling two apartments worth £100,000 each to the same customer for a total of £180,000 if he paid him the cash – unsecured – before they had been built. By knocking £20,000 off the price to get the money up front, Daniel had enough money to complete the project.
"A lawyer said he'd never worked with someone so unorthodox," Daniel laughed. "You have to do these kind of things; you don't have a choice. We got it finished and sold.
"Then we bought a building in Cupar. We didn't do the same with that; we actually built them and then sold them. Then we bought Gairneybank in Kinross, which is our biggest one to date."
As far as the future is concerned, Daniel wants to specialise in high-end homes and, on the developments side, be more selective in the type of projects he takes on. He admits he has had to take on jobs which he knew would be a "headache" and which he'd probably lose money on just to avoid losing staff and to build strong foundations for the future.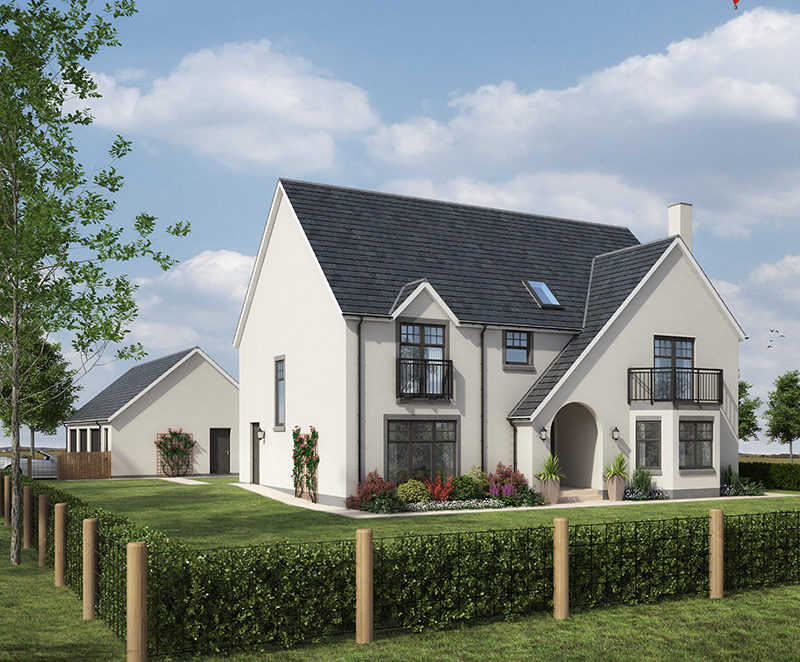 "We had to do a lot of loss leaders to get to where we are," he said. "We've got a very good bunch of guys who have been with us for a long time. A lot of businesses have one or two problems. One of them is staff; the other is cash flow. I'm lucky I suppose in that almost the only problem in my entire life is cash flow.
"All my guys are local; the furthest away lives in Perth. I'm loyal to them and they're loyal to the business. Right now we're building a house on the Isle of Skye. It's the third one we've built there so three of the guys are staying up there. They come back every Friday night and leave on Sunday afternoon to go back again. We've also just finished a job in Aviemore."
Daniel isn't interested in becoming a large volume housebuilder. Instead, he wants to focus on building exclusive, premium homes.
"You can find yourself slowly slipping into the market where you realise you can build 20 houses for the price of five good houses and make more money," he explained. "I just won't do that. I'm not overly interested in the money side of things. I don't pay myself much at all. My girlfriend works for a children's hospice and we both live in a tiny one-bedroom house in Milnathort that we bought for £49,000 years ago, ripped to bits and did up. We're happy with that; we don't need anything else. I do these things because they're exciting. The pay is a bonus"
Next on the agenda for Daniel is the creation of a new head office in Kinross, having sold his previous HQ. He has purchased land from the local council after working with his architect uncle on a proposal that will encourage employment in the area.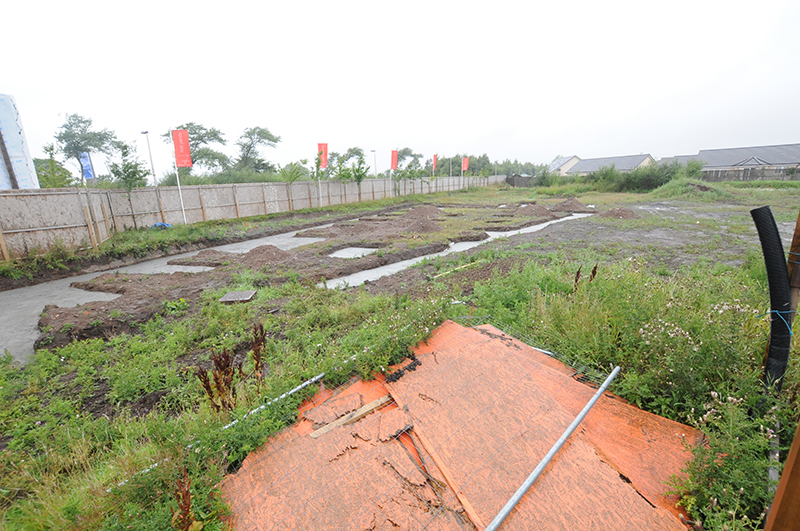 "I wanted something that was bigger than I'd ever need it for with loads of different elements," Daniel added. "We'll have eco pods, which will be rentable office suites. We increased it from five to ten pods. There will also be a part for honey classes, where schools will visit, and a honey shop.
"There will be 15 car parking spaces and an electric charging point at every one so it'll be completely future-proofed. As soon as electric vans come out, we'll be the first company to have every single one of our vehicles electric."
Despite sacrificing holidays and having to work 20-hour days at times to build up the Webster Group, Daniel could scarcely be more relaxed about the risk of one day losing everything. When asked about the challenges of building a business in these post-recession times, he simply states that you can always find a reason why something will be difficult. Instead, he has adopted a "nothing to lose" philosophy. "Everything is always going to be a risk," he said. "People say you need to take 'calculated' risks, but that's just a fancier way of putting it. Obviously some things are more of a gamble than others but, for me, if you have an attitude of there's nothing to lose – as long as you're not hurting anyone else along the way – then it's a win-win. Really, what is the worst that can happen? I end up with what I had seven years ago, but I'd have all the knowledge I've learned in seven years. Great, I'd still be further forward than I was seven years ago; I'd still know how to be a joiner and I'd still know how to run a business.
"I try to be very humble in the sense that I'm not trying to be better than anybody else. I like what I do; we're good at what we do. If it works, great. If it doesn't, then I'll do something else that will work."