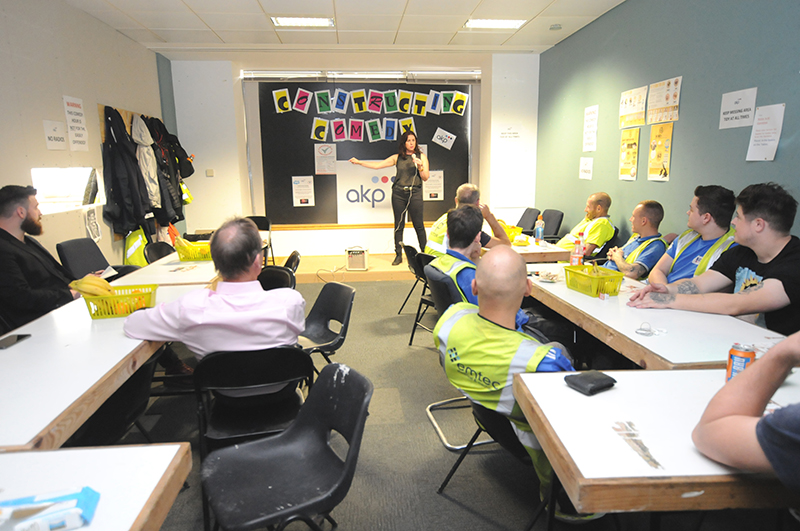 THE Edinburgh Fringe is renowned for its plethora of weird and wonderful nooks and crannies where performers have the chance to ply their trade – but even for the world's largest arts festival, the office canteen of a live construction site has to be unique.
Contractor akp is currently delivering the multi-million pound refurbishment of 80 George Street in the heart of the city, and the firm said it seemed like a "no brainer" to get into the spirit of the Fringe by hosting its own comedy event.
'Constructing Comedy' is part of akp's health and wellbeing initiative to promote stress relief and encourage mental health awareness to its staff, with a diverse range of up-and-coming comics and performers performing across four afternoon events.
"We couldn't deliver this project and ignore the fact that the festival was on our doorstep," Roz Malcolm, business development, marketing and corporate social responsibility manager at akp, told Project Scotland.
"We've probably had about 25 comedians get in touch with us over the course of the four Tuesdays – a lot of them at the start of their career – so this was the perfect platform. I think we had maybe five or six people in the room on the first day and to try and entice the guys to come and sit down and see what's going on was tough to start with, but then last week was a packed crowd in there and there was a lot of audience participation and that seemed to click with a lot of the guys."
Roz said it was important for akp to deliver "something really different" for the initiative to communicate the importance of mental health and stress relief to its operatives. She believes the predominantly male construction industry traditionally doesn't speak about problems and this is part of improving and promoting open discussion.
Roz explained that Constructing Comedy has been beneficial to both staff and performers. The comedians have the opportunity to try out new material in front of a "not easily offended" crowd, and it gives staff a chance to break up the workday with a new experience and have a laugh.
Comedian Jade Allen, who was at the Fringe performing her debut stand-up show, said she heard about the initiative on a performers' forum online. "I was pretty much applying for anything and everything at the time because exposure here is key," she said. "I heard back from Roz and we had a little back and forth chatting about it, and I really wanted to do this because I liked the idea behind it. I like the idea of bringing the Fringe to you because that festival outside can be very overwhelming and it's saturated with stuff; people don't know where to go."
Jade said she was well aware that the crowd might not necessarily be the usual comedy goers and the performance was "massively different" from her typical show. "I'm performing to a room of middle-aged white men literally in high-vis or suits and as a comedian I'm much more used to the weird and wonderful comedy goers…I have to give a lot more to a crowd that might be a bit more uncertain.
"It does completely differ, and these guys haven't chosen to see me – I have been presented to them."
Jade added that it is "vital" to address these issues and promote open discussion, especially in the construction industry. She said, "The audience are the key demographic for undiagnosed depression and anxiety. We're talking about middle-aged, white, straight men who are told to 'man up', who are told that going to ask for help is weak, so to have a giggle and to meet comedians from all over the place and chatting about stuff like that, I think that coming together and doing that is vital, especially for this demographic."