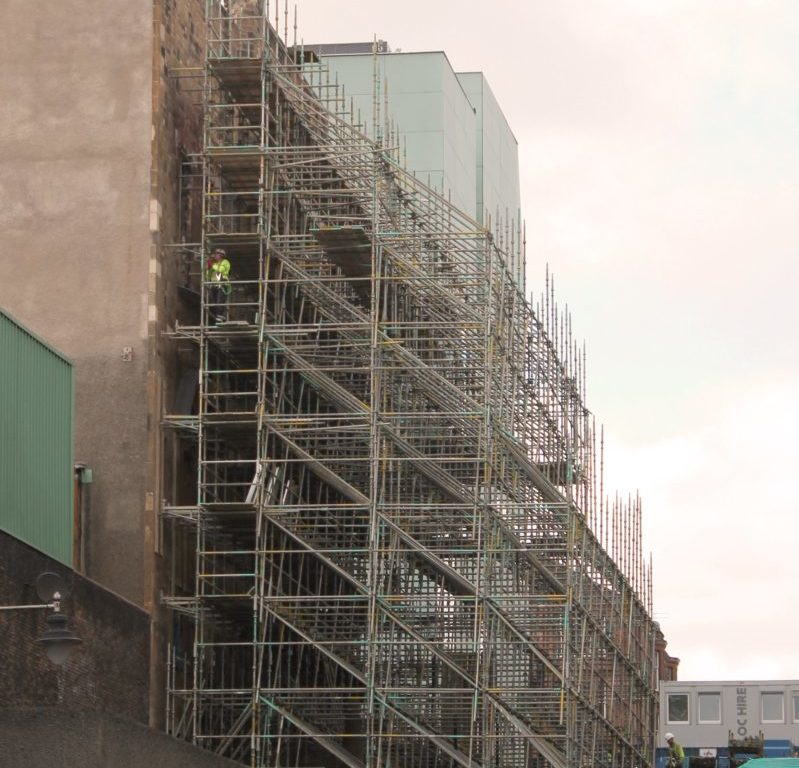 THE Glasgow School of Art (GSA) has revealed progress has been made towards "full stabilisation" of the east gable of the fire-hit Mackintosh Building after work started to install the shoring scaffolding.
A team from SGB is carrying out this task, with work currently scheduled for completion by 21 August.
A statement from GSA confirmed work is also now being undertaken by Reigart on all areas of the building following the start of safety works on the O2 ABC, which were commissioned by Glasgow City Council following issue of a Section 29 notice. GSA said the focus remains on the east gable and south façade, but work has also started on the west end of the building.
The statement added, "The main steel roof beams to the west of the north elevation have now been removed and work to cut away and dismantle the existing scaffold to the north and west elevations is underway. The hoarding and cabins which were in front of the north elevation on Renfrew Street have been removed, and the site has been cleared in readiness for the erection of new scaffolding.
"The scheme for bracing to the wall heads for north façade, and centre and east sections of the south facade are being developed. These are expected to be finalised this week. As the majority of the work being done continues in the areas of the building which we most affected in the fire much of the masonry was judged too damaged to keep, and was therefore moved safely into the building. Some pieces were retained and removed from the building in preparation for storage off site."
Professor Tom Inns, director of The Glasgow School of Art commented, "We are now at the half way point in the agreed timetable for the stabilisation of the Mackintosh Building and we remain on schedule. Last week saw the beginning of scaffolding work on the east gable which is an important step forward in making this area on Dalhousie Street safe.
"We are also moving forward with plans for the bracing work which will secure the east and central sections of the south façade above Sauchiehall Street. Once this work is complete we will advise Glasgow City Council Building Standards so they can consider reducing the size of the security cordon."