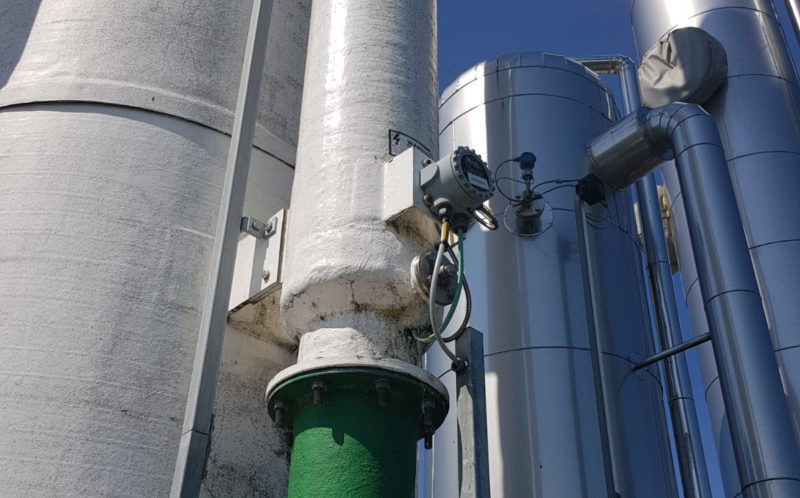 DRAINAGE surveying technology has been used to address a pipe blockage concern at a biogas regeneration plant near Coupar Angus in Perth and Kinross.
Engineers based at the Lanes Group depot in Aberdeen were deployed to survey the gas pipe.
A push-rod CCTV drainage camera, which is normally utilised in sewer works, was guided 15 metres up a large CO2 outlet pipe to try to decipher what was causing  a drop in flow of the CO2 vent line.
The plant's bio-methane service manager had heard of Lanes Group's sewer surveying capability while visiting another plant and hearing how the drainage specialist had been called in to clean some pipes. He said, "It was a bit of a lightbulb moment. I had thought our dip in flow rates might be caused by a pipe blockage so thought Lanes should be able to help."
Lanes said that, prior to carrying out the survey, Colin Small and his team shut down the gas purification plant and "purged" it of methane gas.
The push-rod CCTV camera system is designed to be operated safely in sewer pipes that could contain volatile gases.
Because the camera head was too large to fit through an access panel, a technician at the gas plant created a hole in the glass fibre gas pipe to allow it to be fed into the riser pipe.
Lanes CCTV drainage survey engineers Colin Christie said, "I've used the same equipment to survey new gas pipes before, but not a pipe in a biogas plant. I fed the camera up through the pipe for 15 metres, but the HD video images we recorded showed no sign of a blockage."
Colin then used a point lining kit – usually used to install a liner in a drain to rehabilitate a pipe – to carry out a temporary repair on the gas pipe by patching over the hole.
His namesake, Colin Small, added, "It was important for us to discount a blockage in the pipe, so Lanes' support has been very important, and their service was excellent.
"I can see the versatility of their technology and its potential to be used in a variety of ways across anaerobic digestion and biomethane systems."
Mark Morrice, area development manager for the Lanes Aberdeen depot commented, "We're very pleased to have been able to help Colin and his team. Our remote access CCTV camera technology is certainly very adaptable, and can be used to investigate process pipes, chambers, and tanks in a wide range of industrial applications.
"On top of that, Lanes drainage engineers are can-do people. We'll always strive to do what it takes, safely and effectively, to find solutions to our client's problems."