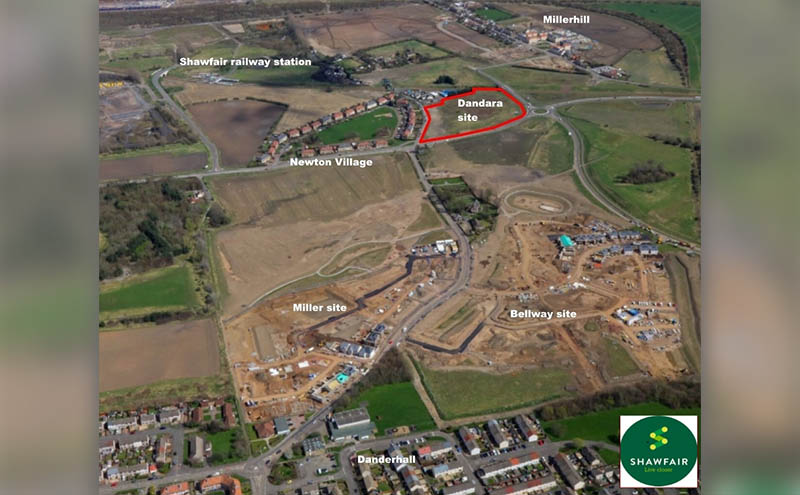 DANDARA has been announced as the latest housebuilder to sign up to the Shawfair community, bringing the total to four.
Subject to a successful planning application now lodged with Midlothian Council, Dandara will join Bellway, Mactaggart & Mickel Homes and Miller Homes in constructing around 75 properties, including a percentage of affordable homes, within the community.
The six-acre Dandara site is just south of Newton Village in the heart of Shawfair and will serve as the southern gateway from the town centre and the existing railway station. Planning consent is expected in the autumn, with work on site commencing thereafter.
Nick Waugh, director at Shawfair LLP commented, "We continue to make excellent progress at Shawfair and are delighted to welcome Dandara to our new town. They are a growing presence in Scotland and have earned a reputation for quality, which is already a hallmark of this area.
"This site is of particular importance as the gateway to the core development block, and the architectural design, landscaping and quality of finish will exemplify the look and feel of our new community.
"All three existing housebuilders at Shawfair are reporting strong sales, with house purchasers attracted by healthy rural living, excellent transport connections and superb value for money."
Niall MacLeod, director at Dandara added, "We are delighted to have secured this prominent, well-located site and look forward to working with the Shawfair LLP team to bring our brand of quality housing to Shawfair."
Shawfair, which is situated near Edinburgh, will ultimately have 4,000 homes, new schools, community facilities and a new town centre around the existing Shawfair railway station. When completed, it will be a town comparable in size to Cupar, Dunblane or Linlithgow.