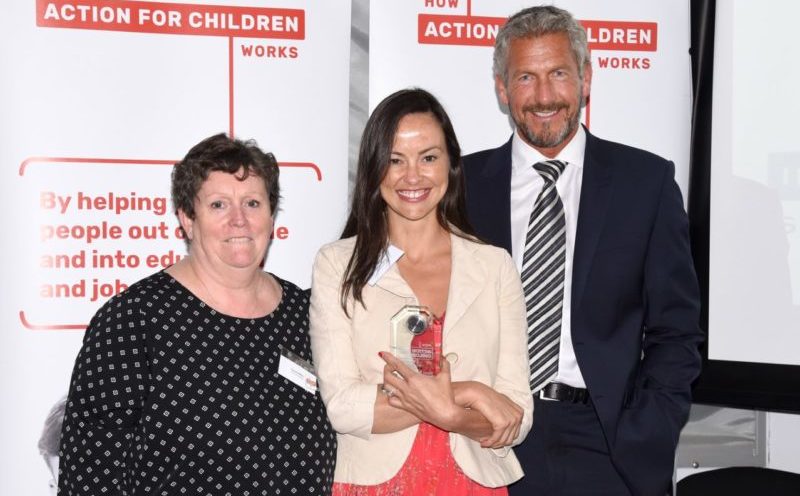 BUILDING contractor McDermott Group is celebrating after picking up the Best Newcomer accolade at the Action for Children Scotland's Employability Awards.
Earlier this year, McDermott Group employed 10 young trainees from Glasgow and Inverclyde who had been placed with them by the charity, which works with children and young adults from disadvantaged backgrounds throughout Scotland.
The young people are currently undertaking 18-month traineeships – paid at the living wage – and have been learning transferable skills while training as domestic energy assessors.
Upon successful completion of the work placement and professional qualification, each of the trainees will be offered a permanent position within McDermott Group. One of the trainees, Kenny Shand, has already impressed the firm so much that he was offered funding to attend the City & Guilds Domestic Energy Assessor course eight months early.
In partnership with Action for Children Scotland, McDermott Group is also supporting a literacy course for trainees who have left school with little or no qualifications. Part funded by WEA Scotland, the course teaches reading and writing skills.
Speaking of McDermott Group's award, Action for Children Employability Award judges commented, "This new employer has been offering opportunities to our young people over the last year. Their growth along with the Action for Children partnership has allowed the organisation to extend opportunities to young people on our Inverclyde and Glasgow programmes.
"The team offer further in-house training and development, and supported some young people with literacy issues, benefiting their future developments. McDermott Group was nominated for this award by the staff at our Youthbuild service for their passion and commitment to improving the lives of young people supported by Action for Children."
Darren McDermott, managing director of McDermott Group said, "All of us at McDermott Group are honoured to receive this award and are proud to support Action for Children Scotland's work to transform the lives of children and young adults through training and employment opportunities. Some individuals may not have had the best start in life and require help getting into the workplace. Therefore we feel it is important that businesses like us get involved so more young people have the chance to change their future. It is wonderful to see how far those young people who are working with us as part of our partnership have come and we will continue to support them on their journey."