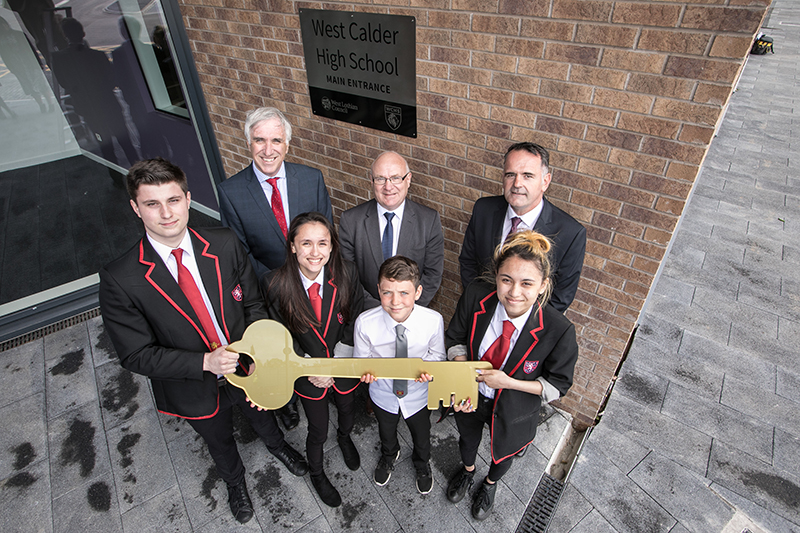 THE new £32 million West Calder High will be up and running in time for the new school year after the keys were handed over to West Lothian Council.
Main contractor Morrison Construction built the 1,100-capacity school, which has been delivered in association with hub South East. The school represents West Lothian's biggest single investment in education and has been delivered on time and budget.
Future pupils recently joined West Lothian's executive councillor for education David Dodds, hub South East's chief executive Paul McGirk and Morrison Construction operations director Allan Cunningham to mark the special occasion.
Councillor David Dodds said, "We are delighted to receive the keys to the fantastic new West Calder High School, which we believe is the finest facility of its kind in the UK just now. West Lothian already has one of the best school estates in Scotland, thanks to ongoing investment, and West Calder represents the very latest in school design to boost the educational experience.
"Thanks to hub South East and Morrison Construction for their hard work in delivering a facility that will make a huge difference to the next generation of West Lothian young people."  
Paul McGirk from hub South East added, "I'm delighted to have handed over the keys to the new West Calder High School to West Lothian Council, on schedule, within budget and ready for pupils and staff to enjoy when school starts again in August. This project is an excellent example of partnership working in action, with a fantastic team working together to design, develop and deliver a truly inspiring new educational facility. We look forward to collaborating on future projects."
Morrison Construction's Allan Cunningham said, "In building this fantastic new school, we have delivered state-of-the-art educational, arts and sporting facilities that will benefit not only current and future students, but the wider community too.  It is wonderful to know the project has been able to directly benefit the community, supporting six graduates, 71 new and existing trainees and apprentices, and creating 27 new jobs during construction."