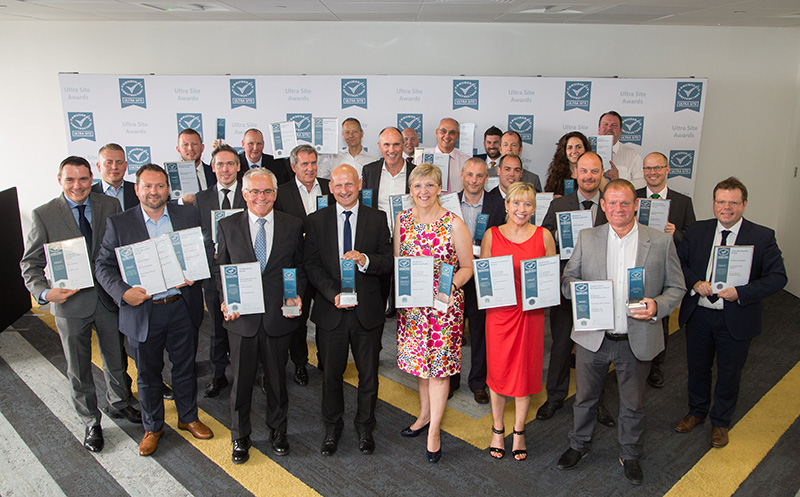 CONTRACTOR Robertson has been honoured with a top award for its work on the Aberdeen Exhibition and Conference Centre (AECC).
The firm received the Community Engagement Award for its work on the AECC for client Henry Boot Developments at the recent Considerate Constructors Scheme National Ultra Site Awards.
The 'Ultra Site' model seeks to achieve greater standards and collaboration across the construction industry, with the event recognising the top-performing Ultra Sites across ten categories.
These categories represent "the key attributes of being an exceptional Ultra Site, from collaboration to community engagement, client recognition and innovation", the Considerate Constructors Scheme said.
RG Group's Redhill construction site for Sainsbury's Supermarkets was named 'Ultra Site of the Year'.
Dr David Hancock, construction director for the Cabinet Office's Infrastructure and Projects Authority (IPA), presented winners with their award and all finalists with certificates of recognition.
He said, "The Considerate Constructors Scheme's Ultra Sites model helps raise the bar for the construction industry, and is a valuable contribution in helping modernise the sector.
"Congratulations to all winners and finalists of the 2018 National Ultra Site Awards. Together they show what we can achieve when we strive for the highest possible standards."
Edward Hardy, Considerate Constructors Scheme chief executive, commented, "The success of Ultra Sites as a model for encouraging the construction industry to truly collaborate throughout the supply chain has clearly been achieved thanks to the considerate efforts made by the award winners and finalists.
"These Awards are an extremely important milestone for the entire construction industry, as each Ultra Site represents a 'sea change' in how construction is achieving and striving for ever-higher standards."
He added, "On behalf of the Considerate Constructors Scheme, I would like to thank and congratulate all award winners and finalists for making the ultimate commitment to improving the image and reputation of our industry."
The full list of winners:
Client Recognition Award: Sainsbury's Supermarkets Ltd – Redhill
Principal contractor: RG Group
Client: Sainsbury's Supermarkets
Collaboration Award: Nottinghamshire Term Service Contract
Principal contractor: Tarmac Trading
Client: Via East Midlands
Community Engagement Award: Aberdeen Exhibition and Conference Centre (AECC)
Principal contractor: Robertson Construction Group
Client: Henry Boot Developments
Construction's First Impressions Award: Southbank Place Project
Principal contractor: Canary Wharf Contractors
Client: Braeburn Estates
Environmental Best Practice Award: Chauncy Residential Development
Principal contractor: Mulalley and Company
Client: Network Homes 
Future Constructors Award: A14 Cambridge to Huntingdon Improvement Scheme
Principal contractor: A14 Integrated Delivery Team
Client: Highways England
Innovation of the Year: Bridge House
Principal contractor: Mulalley and Company
Client: London Borough of Hackney
Supply Chain Recognition Award: Haringey Major Works
Supplier: Mattison Scaffolding
Client: Mulalley and Company
Workforce Wellbeing Award: Royal United Hospitals (RUH) – Therapies Building
Principal contractor: Kier Construction – Western & Wales
Client: Royal United Hospital NHS Trust
Ultra Site of the Year: Sainsbury's Supermarkets Ltd – Redhill
Principal contractor: RG Group
Client: Sainsbury's Supermarkets