AARSLEFF Ground Engineering's recently appointed managing director has described Scotland as a "very important" market for the business, which has been going through a period of rapid expansion and diversification in recent years.
Kevin Hague was promoted to the role of MD at Aarsleff earlier this year, having initially joined the contractor four years ago as piling manager. He soon became general manager and has been at the heart of the firm's ambitious growth plans ever since, which has resulted in Aarsleff becoming a multi-disciplined ground engineering company offering a range of design and installation solutions from ground beams and grouting through to sheet piling, mini piling and soil nails.
Aarsleff's sister company, Centrum Pile, has a manufacturing facility that produces precast concrete piles and ground beams to supply the firm's projects.
Kevin told Project Scotland, "We've been active now in the UK for 27 years. We'd only focused on one discipline mainly – driven piling. This historically was our core and specialism resulting in us becoming a leader in the technique. We used to get involved in sheet piling historically but that was stopped. When the recession hit, we recognised that our strength was also our weakness and over time developed a strategy to broaden our core disciplines. We diversified and have gone through a rapid change in three years, and also a rapid growth.
"The focus now driving forward is to consolidate our position as a specialist ground engineering contractor with the ability to solve most ground-related challenges for our clients. We're not looking for high percentage growth; we're looking at increasing our on-site efficiencies through plant investment and training and also maximising our one-company projects. We are a multi-disciplined business now but we've opened up internal communication channels sufficiently enough to be able to offer a true one-package solution on-site.
"Other larger organisations who offer the same number of techniques can't necessarily do it in the way we can. We're also going to be spending time focusing on design and moving into a more digital age.
"We're keeping the business lean and working in a way true to our core values. We've got a very strict on-going recruitment policy in place and trying to focus on the quality of staff that we recruit into the company."
Since becoming MD, Kevin, who previously worked at Cementation Skanska and Bauer Technologies, has embarked on a mission to drive a "collaborative and transparent" mentality through the company. "That applies from the guy on-site knocking the pin in to the (senior management) making strategic decisions," he explained. "I know that's very clichéd but what we've done since I took over as MD is implemented staff chats, which are regular forums where everyone is together in the company briefing room. We discuss the status of the business completely transparently. We're encouraging a monthly newsletter, which indicates every single KPI across the company. Everyone can see everything that's happening from the number of enquiries received to the number of metres manufactured in Centrum, our pile factory.
"We're quite a small team here with 50 staff members. In a recent engagement survey, and out of 36 respondents, 33 of them said they would highly recommend someone to come and work for our company.
"We had a bit of an identity crisis in regard to our core values. When you go through a rapid diversification and growth plan, you bring people in and you don't necessarily share the values of the organisation. So they come in and try to do their job based on what they think they should be doing, not how Aarsleff wants them to do it.
"We are confident this is changing and have recently completed a project branding the core values internally so people understand what it means to work for Aarsleff."
Turning his attention to the Scottish market, Kevin sees real potential for Aarsleff. The firm has established an alliance north of the border with Northern Piling, whereby Northern Piling carry out piling tasks with Aarsleff providing the geotechnical services and/or retaining structures to complete a foundation package offering. The two firms also agreed they would offer their joint service for ground beams and foundations in Scotland only.
"We're looking at the Scottish market closely," Kevin said. "The reason for that is our offerings fit very well with the Scottish market and also the ground conditions. We know the Scottish Government is targeting a high number of affordable homes by 2021.
"Our offsite manufactured ground beam system fits well with the Scottish market and also fits well with the piles we manufacture. We're working closely with Northern Piling, who get a very good product from Centrum. It's given us the opportunity to partner with their brand name and status in the north and Scotland and allowed us to upsell our additional offerings into the marketplace. We compliment Northern very well; our values are very similar, the way we work is very similar. They're almost an extension of our business.
"Also, we have other offerings which would work well on a one-company project basis in Scotland, such as the shallow mine working market, which we see as an area of interest. We're trying to build the business up heading north because our solutions are in good synergy with the ground. It's a very important part of the country for us."
With around half of Aarsleff's turnover linked to offsite construction, the construction industry's trend towards offsite manufacturing can only be good news for the business.
Kevin described the ground engineering sector generally at the moment as being "extremely competitive" with a large number of firms battling for their share of available work.
"We value the overall UK ground engineering market to be somewhere close to over £1.0 billion per annum," Kevin said. "That's from our internal statistics, but if you look at the amount of companies fighting for a share of that work, it's actually quite sobering to say the least.
"In the right ground our piling solution can sell itself. We have a significant advantage because we have a high production pile manufacturing factory of our own that makes our precast piles. Where we add value to the supply chain is through our enquiry and design process. We have the expertise and ability to develop value engineered alternatives for our clients. That gives us a market advantage over our competition. It is not uncommon for us to self-generate more enquiries from the enquiries we receive than from the open market. We have a good team and adopt an intelligent system reviewing the enquiries and spotting opportunities for our clients from within."
The types of projects Aarsleff specialise in include housing developments, wind farms, commercial schemes and infrastructure.
A recent example of its work was a piling contract for a £25 million extension to Arco's National Distribution Centre in Hull. Aarsleff was tasked with installing over 3000 precast piles up to 21 metres in length with the firm's Junttan PMx22 and Banut 700 rigs.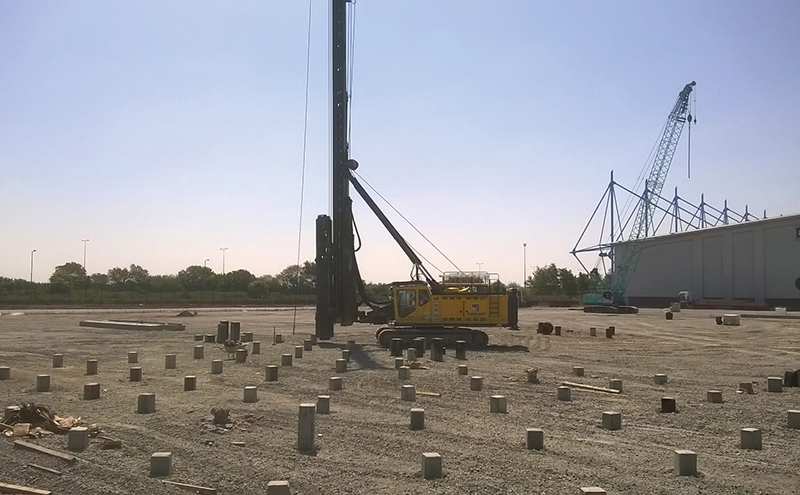 Other recent contract wins include the installation of a sheet pile retaining wall for a new housing development in Mossley, Manchester, which will see the installation of 175 linear metres of sheet piles to create a 4-metre retaining wall to hold up the main access road into the development; and a soil nailing contract for the steepening of an embankment in Gosforth, which involves the installation of over 600 soil nails.
Kevin added, "We're also involved in some very interesting pipeline work. We're getting involved at an early stage in some significant schemes, none of which are related to HS2. It is positive for us as our clients aren't just recognising what we can deliver on-site, they're also recognising the fact that we can solve most challenging ground in a different way."
Sustainability and the environment is a growing factor in the business, as evidenced by Aarsleff's recent shortlisting for the Construction News 2018 Environmental Contractor of the Year Award. Kevin said, "We're a finalist because of the way we manufacture our precast concrete products. We try to recycle as much as we can. We use local materials and local resources where possible. One of our best product lines is the stone gabion facing on our soil nailed walls. Wherever possible, we will try and source local stone to use and offer that to the architect or designer.
"We're always looking at ways to reduce noise and vibration. We try to do what we can engineering-wise to minimise any impact we have on the environment."
Like all firms in the construction sector, Aarsleff is watching current political events such as Brexit with interest. Kevin is optimistic for the future of the industry but believes that uncertainty "is the new norm" and businesses will have to adjust to that fact.
"People have to be more tuned in to the fact that daily business is not going to be straightforward for construction," he explained. "You've got to be nimble and quick and give a little bit extra; it's just a normal day's business for us now. I think we started identifying this in the market two years ago. Fluctuation in the market is going to be an on-going challenge as we go through this Brexit pioneering stage. That is what we see as the overall challenge, but we also see that as the opportunity. If you've got the right attitude, the right solution and the right team, there's no reason why you can't do well.
"We're seeing a lot of pressure on the skilled labour market. When you've got uncertainty in the marketplace, you've got a loss of confidence. Why would someone go into a difficult marketplace that is uncertain? I think all companies suffer attracting good staff, and retaining good staff is a daily challenge for us. We've minimised our staff turnover since last year to a point where we're happy. We're happy we can service the market at the level we want to be at. For others who are bigger, we're seeing companies being sold, companies changing direction or downsizing, and that's just a reflection of where we are unfortunately."