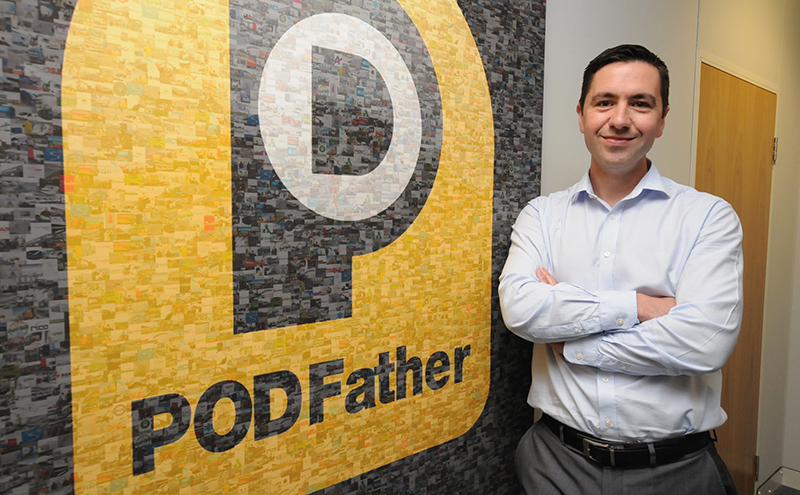 A growing number of construction firms are taking advantage of Edinburgh-based software specialist PODFather's services.
The business, which started life as an electronic proof of delivery tool, has evolved and today offers firms a wide variety of functions from logistics planning and safety compliance to earthworks ticketing and tracking waste.
PODFather's solutions have been used by clients on major projects across the UK including Crossrail, Borders Railway, Glasgow's Shieldhall Tunnel and the M25 motorway-widening scheme.
The company is actively recruiting at the moment as it looks to increase staff numbers by about 50% to 60 people to cope with growth, and is on the lookout for larger premises, having outgrown its existing South Gyle HQ.
Managing director Colin McCreadie joined the business in 2002, two years after a management buyout led by Alastair Broom. He told Project Scotland, "The PODFather system itself we launched about eleven years ago. Firstly, it was delivered as an electronic proof of delivery tool which could be easily integrated in with a back office transport planning system or another sales order processing or warehousing system – basically something that was printing off a bit of paper that had to be taken out by a driver to get signed in the field. Initially it was bolted into a bespoke logistics management system that we'd developed for one of our clients. Our history is in bespoke development of enterprise software.
"We wanted to change the business from a project-to-project led software development company to actually having a product that commercially would give us a stable, recurring revenue stream. The business model of PODFather is you pay a licence fee, either based on the number of jobs you're doing per month or the number of mobile users you have per month.
"As the years have gone by, we've developed more and more back office functionality so rather than it just being electronic proof of delivery, we've got a massive back office system. If you're a logistics company, it can handle route-planning, optimisation, scheduling, sending ETA notifications to the customer – the full delivery experience."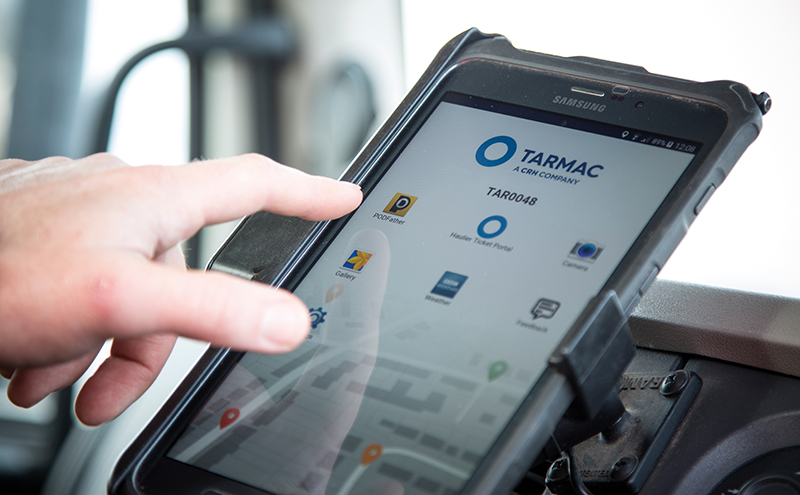 Increasingly, construction firms started to embrace the technology and realise the efficiencies and cost-savings that could be found. Colin explained, "Around 2008/09, the M25 road-widening project was about to kick-off. McArdle, who had won the earthworks contract, contracted us. It became very quickly apparent that putting the technology in cab wasn't going to be commercially viable because there would be so many different subcontractors on that job. So, we took our electronic ticketing system, did some development work, and created an earthworks site-checker based system. We were then attaching barcode stickers to lorries once they'd been inducted onto site, so you knew this was an approved vehicle. In the back office, we knew all the information about that vehicle – what haulage company it was, who the driver was, and various other things. When it arrived at site, our earthworks system would scan that vehicle, prove it was there, and then track what material went in. We had another handset at the tipping location so we could produce closed-loop tickets from the point of origin to the point of destination. From a duty of care perspective, you knew that what you picked up was delivered to the right location – and if it was the wrong location, our systems would provide an alert that a discrepancy had happened.
"That offers a far greater level of control over the earthworks activities. If you've hired in 50 vehicles one day, you know if are you actually getting 50 vehicles based on the reports being generated. You know who's operating them, what frequencies are being used, and what's being moved from A to B rather than having lots of handwritten bits of paper, which then get keyed into spreadsheets – and lots of different spreadsheets because lots of different people need that data in a different way.
"Our earthworks ticketing service was initially used on the M25 and has since been used on the likes of the Heathrow Terminal 2 building and, in Scotland, Borders Railway and Shieldhall Tunnel. Today in Edinburgh, it's being used at the St James Centre redevelopment. Really, it's about proving where the material goes and cutting out mountains of paper."
Blue-chip construction clients over the years have included the likes of Vinci, Costain, BAM Nuttall and Kier. Most recently, PODFather has worked with Tarmac to deploy a logistics planning and live customer delivery tracking solution across its 1,800-strong vehicle fleet and that of its subcontractor network.
Colin added, "We've been involved in some big projects like Crossrail. We're integrated with their vehicle movement booking system that they developed in-house. They send expected vehicle movements down to the gate staff who are using one of our handsets. They then do vehicle safety compliance checks on the vehicles as they arrive."
An important aspect of PODFather's work is around safety. The firm provides software that assists with checking that vehicles on restricted sites have been fitted with the correct safety equipment and can guide staff in ensuring that a haulier has sent the correct spec vehicle. Safety inspections can trigger alerts if something isn't up to standard.
"We also cover vehicle booking systems," Colin said. "This is being used on the Thames Tideway Tunnel to manage all the deliveries across their sites. You can set up constraints on that system for how many vehicles you can have coming or going from a particular site and what types of vehicles they can be. It can also help with the management of compliance, for example if people need to supply training certificates to prove they are competent; we can make sure the task of managing that compliance is as easy to do as possible.
"Then we do things with e-ticketing for material movements, which is the waste management duty of care aspect.
"We do systems for bulk-tracking as well so if you're not necessarily moving your material off-site using tipper lorries, we can put the technology in-cab in dumper trucks. With that, we tend to be very intensive on things like GPS on the hardware, so we're just making the device work a bit harder and smarter to reduce the chance of manually entered data being wrong. If you want to know where all your hazardous material has gone, we can quickly run off a report and give you the precise coordinates. So, when the environment agency comes along and asks that exact question, you can answer it. It's also safer because there are fewer people interacting between the machinery. You don't need a site checker passing bits of paper between the site checker and a dump truck. It's all encapsulated on a device. There's loads of different reports once we have the data and it's very customisable as well. You might want to look at activity by haulier, or site, or material. You might want to know what's in stock piles, how many vehicles are coming and going, how many are compliant.
"On the compliance side, it helps with safety inspections because it proves that you are inspecting the safety of vehicles. It's proving closed-loop waste processes, so you know exactly where your waste is going.
"The technology that we're putting out to the world is hopefully making these sectors a little bit better. It's making the construction industry a bit safer and more efficient; it's making logistics companies more efficient; it's making what you're actually doing day to day more interesting because you're not shuffling 1,000 bits of paper into a system and hoping you've not lost one. There are lots of benefits to the system. We're often amazed at how many benefits there are when you scratch beneath the surface. On the construction side, if you ensure all the material movements are being documented properly, there are big financial savings to be made because you're not having disputes with your supply chain."
Despite construction's reputation for being a very traditional industry when it comes to certain things, Colin is in no doubt there is a growing appetite for technology and finding improved ways of doing things.
"Ten years ago, there was more resistance (to PODFather's services) because people thought you would never be able to get somebody on site or a driver using a mobile device. But now, if you've got a phone it's a smart phone and our system becomes just another app on a smart phone. There's less resistance from a user concern perspective. People understand there are better ways of doing things than shuffling bits of paper, but you still need to manage change. We are selling quite a complex business solution. If you don't mange that well and don't engage with your own staff and own users, then you'll have challenges. The more you acknowledge that, the more you'll be able to reap the benefits.
"The construction industry does a lot of things very well and is very advanced in technology in some areas. But the actual operational areas, you think of the amount of paper being generated on these sites and you just think why? You've got these amazing 3D modelling systems and 3D printing of concrete. Why then on the other side of the building site are you still signing a bit of paper to receive delivery of that? That doesn't make sense."
Colin admits PODFather is operating in a competitive market, with lots of rival software companies out there. He believes the business stands out by offering a one-stop shop approach.
"Quite often you'll have one company doing a booking system but will then work with someone else who does just routing or someone else who does tracking," Colin explained. "We do the whole thing, which makes us easier to deal with. If there is an issue, you've got one support desk to call. Because we're in control of the software, we can resolve issues. We've also got a lot of experience in understanding what the business requirements are and modifying a solution to fit those requirements. We have built a system that is very big and very complex, but we've designed it in such a way that we can easily modify it to suit the way you want it to work."
Colin also stressed the importance of innovating and keeping on top of developments in the mobile market.
"Mobile manufacturers are launching new devices every week and we need to make sure we can support these devices. Ten years ago, it was Windows Mobile, then Android took over as the dominant operating system. iOS is out there. Where is it going to be in five years or ten years? I can't predict that. The construction industry will still be building stuff so for us as the software provider; we need to make sure that we're innovating to be able to support whatever hardware technology is available. On the back office side, we are constantly doing development work. The majority of employees are system developers. Over the years we've created four or five different versions of route management and optimisation systems because there's always a better way of planning. If we can make the sixth or seventh version that little bit more efficient, it makes our customers more efficient and makes us a better organisation to work with.
"Our business relies on regular monthly usage of the system so it's very important that we do a good job and provide a good, reliable system that works. Repeat business is vital. We're not selling a one-off thing."
The final question for Colin is the name – PODFather. Where does it come from? "When we were building this, the brief was it needed to be memorable, and it needed to suggest what we actually do," Colin said. "It was all about Proof Of Delivery (POD), though it's a lot more than that these days. We had a prototype system we developed and had to call it something. The early prospective customers we showed it to liked it, so we trademarked it. We can meet people at a trade show one year; they might not be ready for implementing this type of system but two or three years down the road they are, and they remember our name. It's perhaps a bit of a marmite name but the system we're providing is a very serious one so there's one joke in the business, which is the name!"