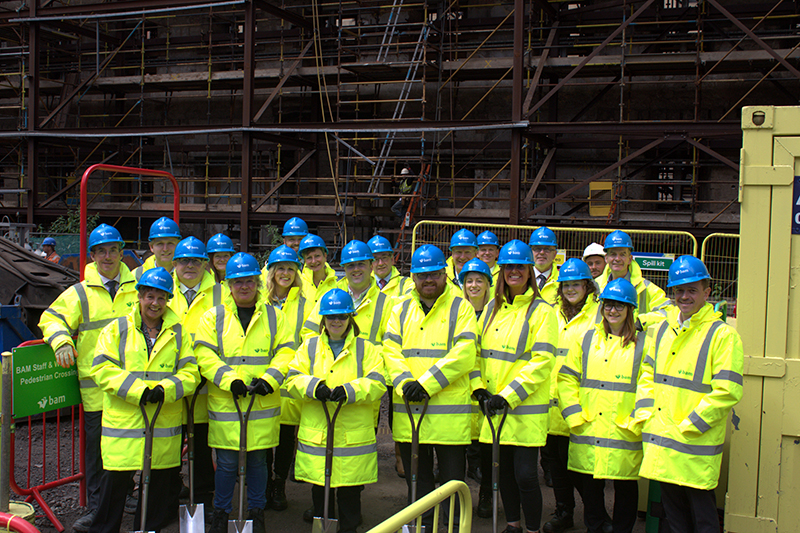 WORK is progressing at the "landmark" Atlantic Square building in Glasgow, which will be designed by BAM Design and built by BAM Construction.
Representatives from BAM TCP Atlantic Square and HM Revenue & Customs (HMRC) attended a ground breaking ceremony at the ten-storey site. HMRC is to lease the building for a minimum of 20 years. It will accommodate some 2,700 full-time equivalent employees by the end of 2021 and is one of the 13 new HMRC regional centres.
A joint venture between BAM Properties and TCP Developments Limited, forward funding has been provided by Legal & General on behalf of Legal & General Retirement.
The building will feature the retained facade of an A-listed former warehouse buildings built by retailer William Whitley in the mid nineteenth century.
Dougie Peters, MD of BAM Properties welcomed Fiona Wallace and colleagues from HMRC to view the progress being made. He said, "Using the latest technology we've been able to virtually show our HMRC colleagues the building in great detail but nothing beats the experience of viewing the site first-hand. Piling is well underway and you can now start to see the building take shape."
Fiona Wallace, regional implementation lead at HMRC added, "This significant milestone in the Atlantic Square development is the result of months of planning and preparation. When it is built, the new building will mean our staff can work in a modern and bright environment and work collaboratively with other teams, to increase our effectiveness in collecting taxes. The building work is just the beginning of cementing HMRC's presence in Scotland to create a tax authority fit for the future."