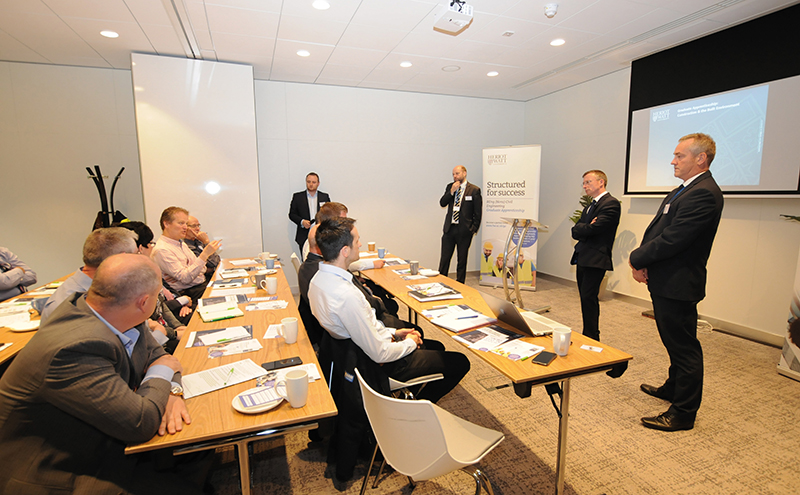 A new apprenticeship scheme that seeks to create degree-qualified employees has been tipped to make graduates "immensely" more useful to construction employers.
The Graduate Apprenticeship (GA) is funded by Skills Development Scotland and aims to provide apprentices with work-based learning opportunities up to Master's degree level to help produce employees that are job-ready on day one.
Heriot-Watt University recently held a business breakfast event to promote its new GAs in civil engineering and construction and the built environment, which start in September, to industry. Attendees included Balfour Beatty, Story Contracting and Bower & Kirkland.
Professor Ian Smith, who gave an overview of the civil engineering programme, told Project Scotland, "Graduate Apprenticeship programmes are new for the entire sector, so the universities, as the developers of the apprenticeships, are probably a few steps ahead of the employers in terms of understanding how these programmes are going to work and what they're about."
Heriot-Watt's model would see the apprentice continue working full-time with their employer and spend around one day per week on the university campus in Edinburgh over a four-year period.
Ian said the traditional higher education degree route – where a student attends full-time for four years before entering industry – meant employees could be coming into organisations with no real hands-on experience. While he emphasised that the GA is open to all employees, he used the example of a school leaver to illustrate how the programme can benefit firms. "(Students) come to university one day a week for four years and the other four days a week they are in the workplace, so that when they come to have their degree at that same stage as the full-time equivalent, they're immensely useful to the company. They know the organisation inside out; they're part of a well established team because they've been working there for four years, so in terms of their use they are immensely more useful and I think this is the appeal to industry – suddenly they have a graduate engineer who is utterly tailored to that company's needs, rather than the alternative of a full-timer (coming) out and having to find their way for the first six months."
Ian said the feedback from industry on GAs had been very positive. "They're ready to embrace this," he added.
Dr Graeme Bowles, who gave an overview of the construction and the built environment programme, said the GA was a "fantastic" way of developing an apprentice's skills, allowing them to contribute more to their organisation quickly.
"There is a shortage of qualified construction professionals in the industry. We have a long experience of providing graduates through traditional full-time programmes to try and address these skill shortages, but still there is a requirement for more qualified professionals as the construction sector continues to develop," he said.We anticipate that our graduate apprentices will continue their professional development as chartered surveyors, they will specialise in quantity surveying and we also expect a number of them to specialise in project management-related fields."
Dr Robin Westacott, project lead for GAs at Heriot-Watt University, added, "Graduate Apprenticeships are becoming important because it's an alternate way for young people or existing employees to get a degree without going through the traditional route…but also because it addresses the industry need to develop an increasing number of people to fulfil, and in engineering in particular, a growing economic need for trained people working in those environments.
"From an employer's point of view, there's often a criticism that traditional graduates are very good theoretically but not very good hands-on, so this is a way of employers getting that on-the-job experience and looking at young people, or upskilling existing staff who they already know can do the job."