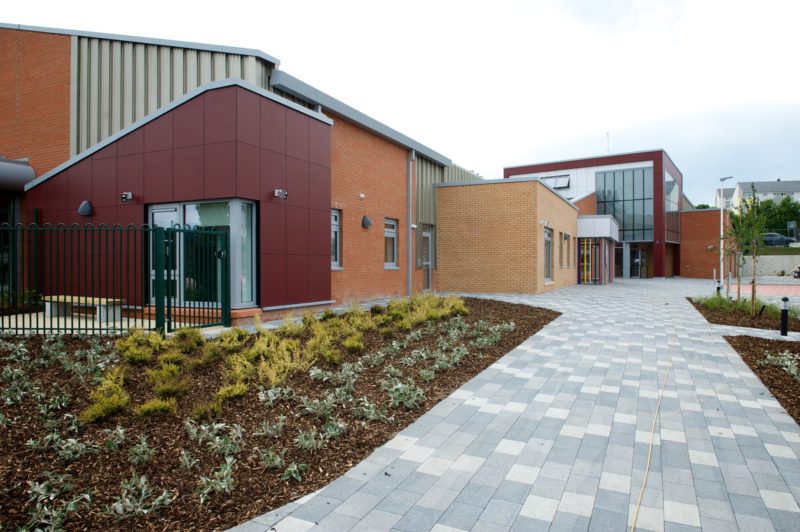 THE new £8.5 million St Paul's Primary School and Foxlea Early Learning and Childcare Centre in Foxbar has been completed ahead of the new school year.
The facility will open to youngsters in August after the shared campus was handed over to Renfrewshire Council by contractor Morrison Construction.
Staff and pupils at St Paul's had their say on the colour scheme, choosing the red and grey school colours in the social and reception areas and pale greens and grey in the learning spaces. They were also involved in furniture choices and outdoor facilities.
St Paul's headteacher Louise Maher said, "It's fantastic to come on a tour with staff and see the finished building ahead of welcoming children and pupils back in August. We are especially excited about seeing all our ideas become a reality as well as looking forward to the next chapter of school life in our wonderful new space. We can't wait to move in."
The campus features outdoor learning spaces, including a canopied area where pupils can carry out activities such as science experiments. All formal learning spaces link directly to covered outdoor spaces, which, in turn, connect to outdoor play areas. There is also an all-weather sports surface and a forest area.
The building is housed on one level and also features a bike and scooter rack to encourage children to ride to school.
Councillor Jim Paterson, Renfrewshire Council's education convener said, "We are investing in a number of new build schools that also invest in our children and teachers. We are committed to ensuring our children and young people have the best learning environments so they can achieve their full potential and St Paul's shared campus is a great demonstration of this. It's a campus fit for the 21st century, with classrooms which are internet ready and will accommodate the use of modern teaching aids. With outdoor learning an instrumental part of the school curriculum, pupils also have access to external spaces which allow them to engage with the world around them."
Eddie Robertson, Morrison Construction's MD for Central Scotland added, ''What better way to celebrate handing over the keys to this fantastic school than to welcome teachers with a tour of the high-quality education facilities we have delivered. We are proud of the lasting benefit this project will provide the community, which positively impacted on the local economy by supporting 14 work placements, five apprenticeships completions and creating seven new jobs during construction.''