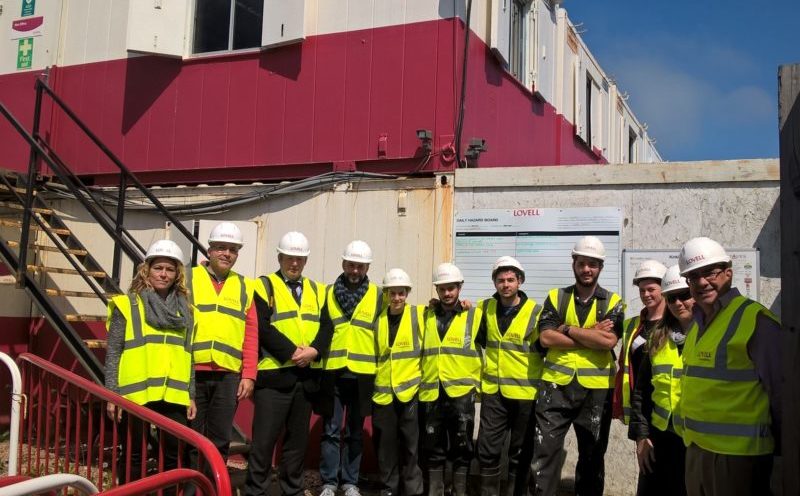 FOUR Spanish students received a taste of life on a Scottish construction site after completing a work experience placement in Kirkhill, West Lothian.
Acoidan Sanchez Brescit, Dacil Diaz Herrera, Jesus Guillen Porto and Jos Antonio Monzon Suarez spent two months on the site, which is managed by Lovell, as part of a link-up with West Lothian College.
The students, aged between 18 and 23, have been studying a basic construction course at Santa Lucia College in Las Palmas. As part of their visit to Scotland, all four were looking to gain hands-on painting and decorating experience. Working at the Kirkhill site alongside Lovell subcontractor Jamieson Decorators, they had an opportunity to experience paint priming, taping and finishing.
Lovell marked the last day of the students' placement by inviting their Gran Canaria lecturers to visit them on site. Accompanied by Graham Clark, head of construction at West Lothian College, the visiting lecturers accompanied their students and Lovell training advisor, Kelly Harkness, on a tour of the site. 
Ness Stewart, community engagement manager at Lovell in Scotland said, "Developing the skills of young people in construction is very important to Lovell. It was great to be able to partner with West Lothian College and Santa Lucia College to give these four enthusiastic students the opportunity to gain first-hand experience of working on our Kirkhill construction site.
"They all made a great contribution to the site team during their stay and I know enjoyed some valuable on-site experience in painting and decorating, working with Jamieson Decorators Ltd. On behalf of everyone at Lovell, we wish them the very best of luck for their continuing studies and for a long and fulfilling career in construction."