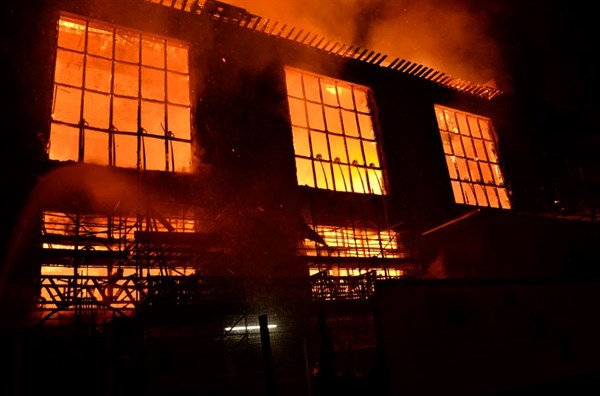 THE Glasgow School of Art and Kier Construction have confirmed they have jointly concluded to end the current contract for the Mackintosh Building restoration with immediate effect following the recent devastating fire at the historic building.
A joint statement said both parties agreed that the current contract "could no longer be fulfilled or completed".
Kier was appointed as main contractor in June 2016 to deliver the restoration works of the Mackintosh Building following the first blaze four years ago. At contract award the value was around £25 million and the works were due for completion in January 2019.
The joint statement added, "The Glasgow School of Art acknowledges the work Kier Construction Limited and its appointed subcontractors had undertaken to date."
It was revealed this week that work to partially dismantle sections of the fire-hit Glasgow School of Art Mackintosh building is expected to start soon after surveys revealed a sudden collapse of parts of the building is likely.
Glasgow City Council said remote and close-in surveys from baskets suspended from cranes have revealed "more substantial movement in the walls of the building than previously thought".
Raymond Barlow, the council's head of building control said, "This building has undergone substantial stress in recent days. With each passing day a sudden collapse becomes more likely. It has become urgent that we take down the south façade. As the process begins it will be likely that the other walls will also need to be reduced.
"We do not know what effect this will have on the rest of the building so I have to be clear this site remains dangerous and is becoming more dangerous. It is particularly important that people observe the cordon which remains in place."