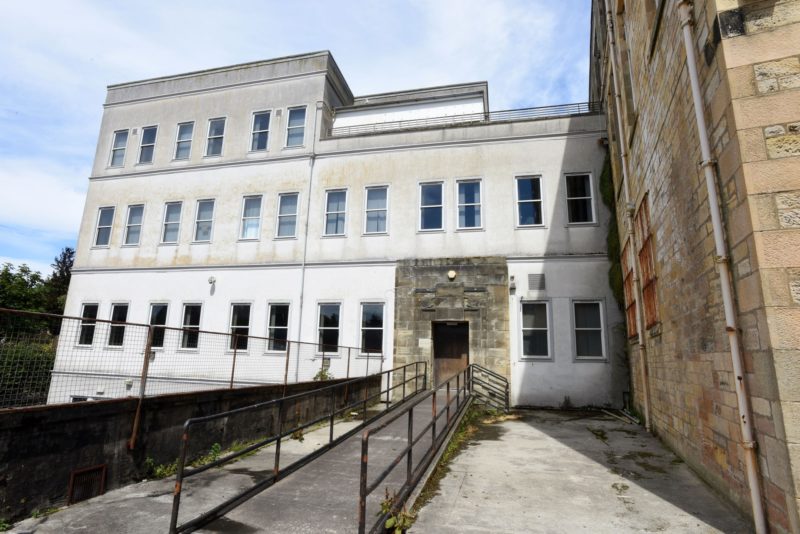 DEMOLITON of a 1930s extension has marked a significant milestone in the project to refurbish the old Ayr Academy to make way for a new home for Ayr Grammar Primary School.
The school's history dates back to 1233, while the current building has been a local landmark since 1880. Ayr Academy as a school relocated to a new home at Craigie Estate last summer.
The £16 million project for a new Ayr Grammar will see the buildings refurbished to create a modern facility with capacity for more than 430 pupils, a new early years centre, community arts facilities and a new Archive and Registration Centre.
The plans require demolition of obsolete extensions at the back of the school to help create space for playgrounds, external teaching and car parking. Work on this phase is expected to be completed by February next year.
The project is being delivered through hub South West, who have appointed Morrison Construction, and a design team led by BDP Architects.
Michael McBrearty, chief executive of hub South West said, "It's fantastic to see enabling works now progressing on this exciting and innovative project that will regenerate one of the most iconic buildings in the seaside town. Having delivered the new and re-located Ayr Academy in partnership with South Ayrshire Council in 2017, we're pleased to be continuing our work to redevelop the school's old home into the new Ayr Grammar and Archive Centre."
Morrison Construction operations director Allan Cunningham added, ''It's an exciting milestone for this project as demolition works begin on site. We look forward to continuing our relationship with South Ayrshire Council and hub South West and will work closely with all stakeholders to ensure works are undertaken with minimal disruption."