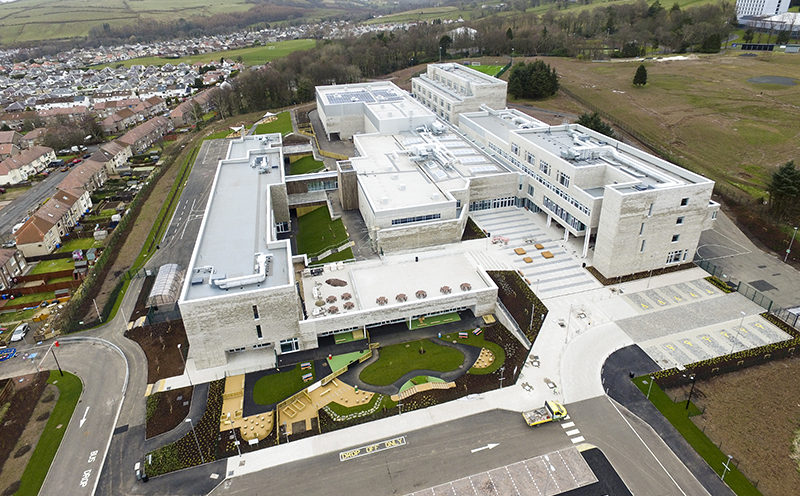 FIRST Minister Nicola Sturgeon has officially opened the new £52 million "ultra-modern" Largs Campus.
The Campus, which comprises Largs Academy, St Mary's Primary and Largs Primary, has potentially the biggest games hall in the UK and was delivered following a collaboration between hub South West, Morrison Construction and North Ayrshire Council.
Features include art classrooms with balconies to facilitate outdoor working, two theatres, and an Early Years Centre with facilities that incorporate parent rooms, family rooms and play and learning areas for young people.
Nicola Sturgeon said, "I am delighted to officially open the tremendous new Largs Campus buildings. It's clear to see that the pupils and staff are all enjoying and benefiting from their new learning environment. What's more, not only do these new schools provide enormous benefits for the education of our children and young people, they also help the local economy with jobs and apprenticeship opportunities during construction, and will serve the wider community now that they are open."
Construction work started in August 2016 and completed earlier this year. Michael McBrearty, chief executive of development partner hub South West added, "Largs is an outstanding new campus that hub South West is delighted to be a part of. To be at the official opening today and see pupils utilise this fantastic facility is a real testament to the hard work and innovation that all parties brought to the process of delivering the new campus.
"Largs Campus will provide excellent facilities for the wider community and transform education in the seaside town.The setting is spectacular and the opportunities for sport and outdoor learning in the neighbouring facilities are absolutely first-class."
Morrison Construction operations director Allan Cunningham commented, "It was wonderful to see the First Minister tour this fantastic campus and meet pupils and teachers who have been enjoying the state-of-the-art educational, arts and sporting facilities. We are proud to have delivered this project that will provide a lasting benefit to the community and which positively impacted on the local economy by supporting 25 work placements, 13 apprentices and creating 73 new jobs during construction."