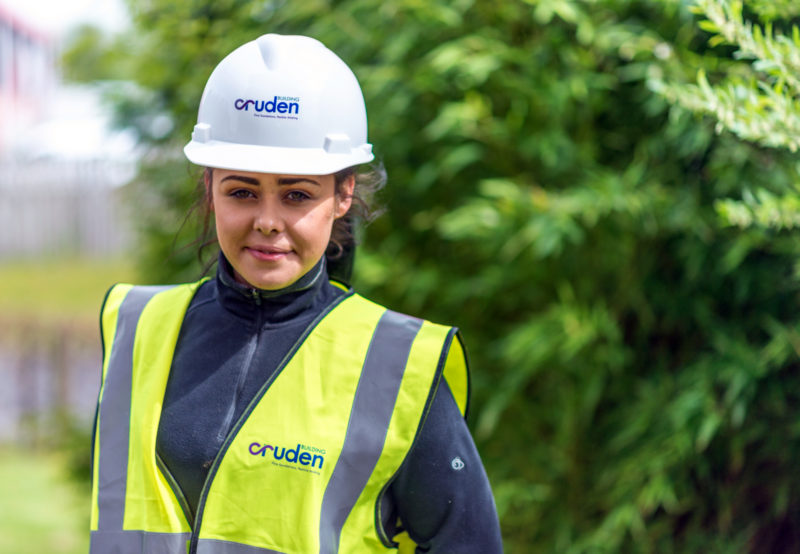 By Nicole Carlin, an apprentice bricklayer with Cruden Building. Nicole is currently taking part in Cruden Academy where she is completing a four-year Modern Apprenticeship
BRICKLAYING is not a typical career aspiration for young girls growing up, and I was no different – I loved drama at school and thought perhaps I would try becoming an actress one day.  But by the time I finished school I had lost the acting bug and wasn't too sure what I wanted to do.
Most of my friends were going into beauty or social care but none of that was for me. I knew I wanted to do something fairly active, and my mum, who has always shown me that I can do any job I wanted to, suggested I thought about working in construction.
I applied for a National Progression Award (NPA) Construction Course at Glasgow Kelvin College and got in. It was a one year course where I did one day in the classroom and two days in the workshop doing hands-on assessments each week, and I got to try a range of trades.
I found that I enjoyed bricklaying the most and I stayed at college and completed a one year NPA Bricklaying course, where I really honed my skills. After that I applied to various companies and was lucky enough to get an interview and successfully secured a job with Cruden Building in August 2017.
Since then I have been working with a team where I am the only female, and it has been great fun. I'm not treated any differently, and am made to feel part of the wider 'Cruden family'. The company has really invested in developing their employees through the Cruden Academy which includes the full modern apprenticeship programme I am in, as well as lifelong learning, training and further education support. About 300 people work here, including joiners, bricklayers, plumbers, painters and labourers and there are around 90 apprentices throughout the Cruden Group. For me, it is exciting to see how my bricklaying plays part of a much bigger role.
You don't need to be macho to work in construction – I've always been a girl that likes wearing make-up and doing my hair, and that hadn't changed. What I have gained is great confidence from learning a trade that I'll always have, alongside a real sense of achievement and independence.
I also love building something lasting and practical – I could be doing beauty and paint someone's face, but then they wash it all off afterwards. When I'm building a wall, I'm creating something that is much more permanent, and that gives me a real sense of pride. I especially love being able to work on building a house and seeing people then living in that house – being able to build a home for a family is pretty special.
I'm now in my first year of a four-year apprenticeship. As well as getting a trade, I get paid while getting put through my training. Beyond that, I see construction as a very good career option.
It's a shame that more young people, particularly girls are still unaware of the huge number of opportunities available in the construction industry. At school, the careers advice I was given didn't even consider this amazing sector,  even though there are so many different routes in and different jobs available – and there are no restrictions for men versus women.
Working in a trade doesn't have to mean tools for the rest of your life unless you want it to. There is a real opportunity for career progression. For example, I could go into lecturing or maybe even become a site manager one day. But for now, I really enjoy my daily work bricklaying and am looking forward to progressing through my apprenticeship.
I'm also determined to bust the myths about working in the construction sector. The Cruden Academy supports a lot of initiatives to help young people get a better insight of the industry, and I've already had the chance to speak to secondary school children about what it's like being an apprentice bricklayer. If I can inspire one girl to wake up to the amazing opportunities that lie await in this fantastic sector, I'll have done my job.