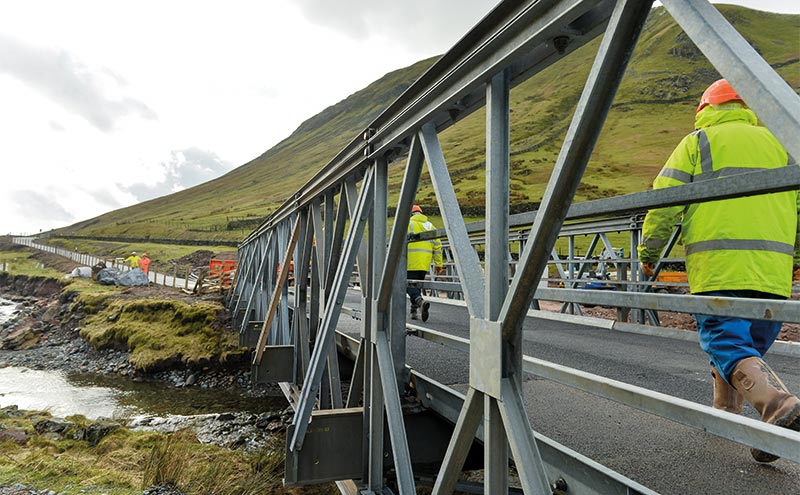 BRIDGE and engineering services specialist Mabey has a clear focus on Scotland as the firm looks to offer customers across the nation a "total solution package" – from initial enquiry and design through to installation and delivery.
Across three bases – Aberdeen, Inverness and the central hub, Glasgow – the firm provides a full range of solutions with in-house engineers, customer service and product specialists all available locally. As well as being able to design, manufacture and construct bridges, the Mabey team can also supply and install temporary works on projects and provide a range of non-mechanical equipment for hire.
Catherine Bradley, Mabey's head of operations in Scotland, said the business has a "huge focus" on Scotland at the moment. "It's all about the customer and offering a total solution package to them," she explained. "I think the expectations and demands from the market are greater than ever before." Catherine stressed the importance to the customer of having locally-based contacts that they can speak to throughout the duration of a project.
Customer product specialist Graham Brodie, who has 30 years' service with the company, revealed he visits sites to spend time with clients to ensure they know how to assemble products correctly and safely. Ensuring that the equipment is used safely and in the correct manner eliminates any accidents on site or potential damage.
Billy McCormick, head of engineering for Scotland, explained that an increased health and safety culture in recent years means that contractors are unwilling to take any unnecessary risks. He said, "One of the big changes for engineering is that even simple solutions such as trench boxes need a bespoke design. Customers want to offset risk, and that's where we are happy to step in. We are able to propose the best solution in reference to the site-specific information supplied in the client's brief."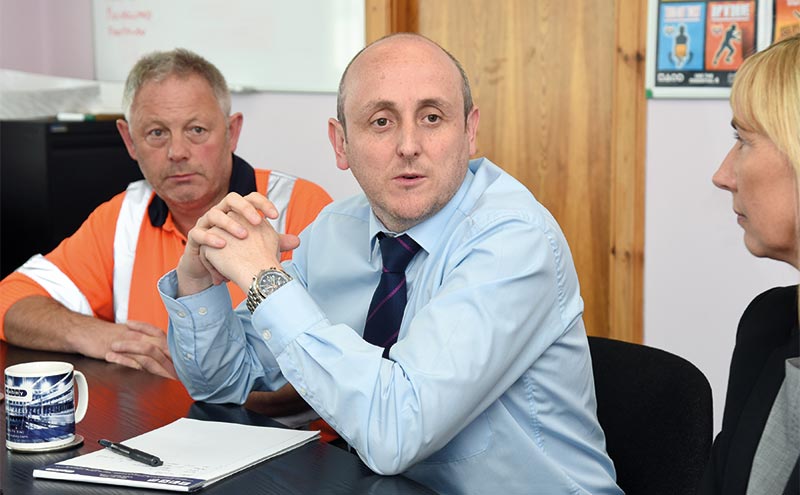 Local engineering is vital to the firm's success, according to sales director Jimmy Stewart. "Having the capability of an engineer based in the Glasgow depot to go out to site anywhere in Scotland and discuss with the customer is key; it's a unique selling point that our wide customer base appreciates."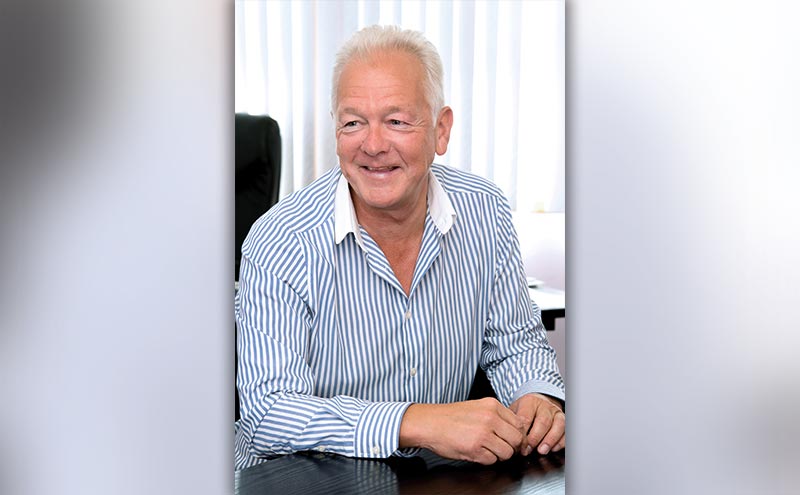 Having that technical expertise available locally has generated positive feedback, Billy added. "We make sure that we attend site and see the customer's issues first hand, and that's been a real positive for customers. Because we have the engineering team based in Glasgow, our response is faster and more precise. This is certainly what we're hearing from our customers, which is fantastic."
Mabey has a number of customer supply agreements, which Jimmy said helps the firm maintain its market share north of the border. The company has been involved with Scottish Water as a framework supplier since 2007, supplying trenching and shoring equipment both to Scottish Water direct and their appointed contractors, including George Leslie, Amey Black & Veatch, Fastflow and Mackenzie Construction. In addition, Mabey has agreements with Tier 1 contractors including Balfour Beatty, Galliford Try, Laing O'Rourke and Morgan Sindall. Currently the business is seeing a lot of work across housing, utilities and infrastructure, and is involved in large-scale façade retention works at Atlantic Square in Glasgow for BAM Nuttall.
The company has also taken a proactive approach to implementing new technology such as virtual reality (VR) headsets to illustrate project designs. Billy explained, "I was proud to be part of the team that originally set up digital engineering within Mabey. The core team remain based in Garswood (in Merseyside) but the digital engineering capability has expanded into Scotland. Because I was based here I was keen to be one of the first regions to get the digital capability so Mabey invested in the hardware such as high-end laptops with VR goggles, software and training."
Billy said all of Mabey's engineers in Scotland now use Revit, which allows them to work more efficiently in 3D and deliver a better-looking end product. He continued, "It allows us to drop the project manager, or any other stakeholder involved in that project, into the design. If you build it once virtually before you build it on site, you can really design out potential issues that could occur. We're ready for when that demand increases; we're early adopters and we were first in our industry to get BIM Level 2 accredited from the BSI (British Standards Institution)."
The company has also introduced a survey app that allows customers to rate the service they've received. Steve Williams, general manager of the Glasgow depot said the app was delivering "consistently high scores since its introduction earlier this year. It's a fantastic tool for us as it allows us to gauge our customer service first-hand," he added.  Steve has headed up the Glasgow depot since his appointment in March this year, bringing a wealth of experience in both operations and sales. He joins Ian Henderson, manager of the Inverness and Aberdeen depots, who has been with the business for almost 20 years.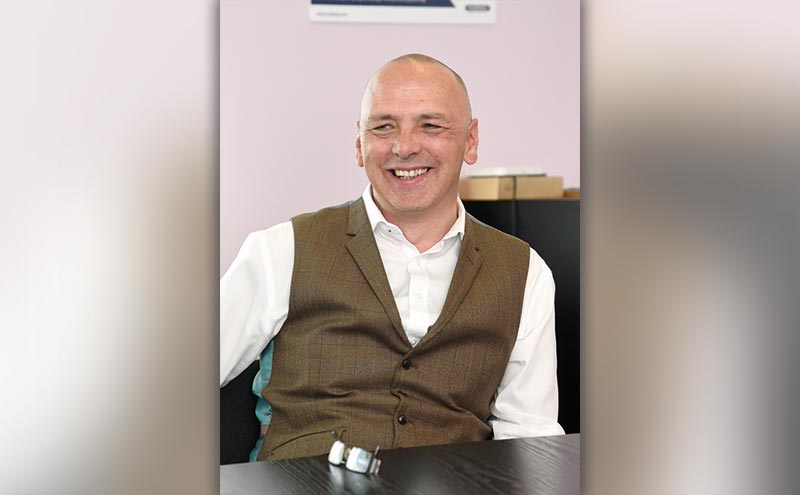 Mabey is well known for its work on bridging solutions, with services including bridge abutments, formwork, trench support and ground support. "There are a lot of suppliers in the industry but I think one of the unique selling points is we can take it on as a sub-contract package," Billy said. "We can provide design, supply, install, monitoring and removal; so the whole project can be sub-contracted to Mabey. For instance, bridge installation and bridge propping for bearing replacement.
"There are different types of bridges on offer; from pedestrian bridges to quick bridges and panel bridges of various different spans depending on the use, some of them are useful for site access, some of them are useful for emergency bridging because the existing bridge needs repair.
"We can provide clear span panel bridges up to 100 metres. For instance, in one of project we cantilever launched a bridge from one side over four live railway lines during a 4-hour possession. These are the type of projects we can take on as a sub-contractor."
Looking ahead, Jimmy said succession planning was key to maintaining Mabey's market share. "There's a lot of experience within Scotland and it's ensuring that we include the existing team and that they can maximise their career within Mabey Scotland. There's a lot of longevity of service within the whole Mabey group, so it's an excellent place to work, and we need to ensure there's a clear succession plan going forward, so we leave a legacy and we ensure that Mabey Scotland is in safe hands."
Catherine added, "For me it's about future-proofing our reputation. Mabey's reputation is based on pride and heritage – we've been here in Glasgow for 44 years – and we want to make sure the legacy continues. We've inherited it and we want to keep making sure the customer service process is right, so when customers want total solutions, it's Mabey they think of first."