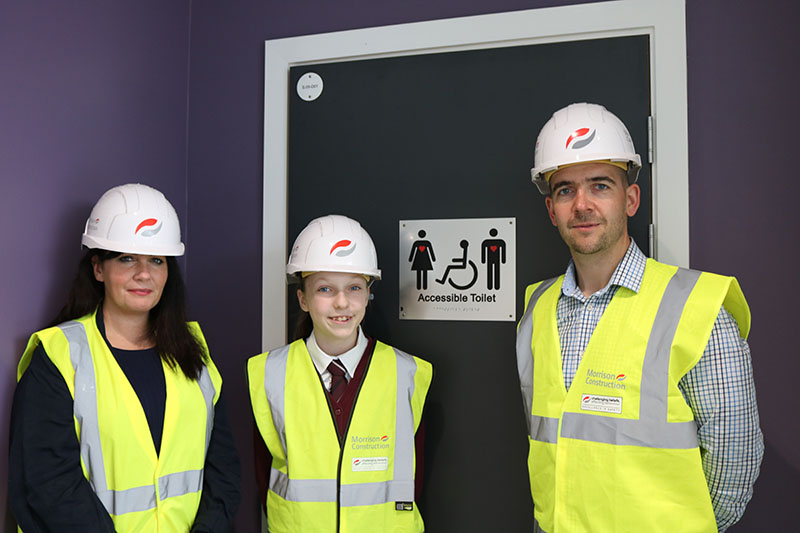 A Scottish construction firm is backing a schoolgirl's campaign to install bathroom signs that encourage consideration towards people with hidden illnesses.
13-year-old Grace Warnock was diagnosed with Crohn's Disease at the age of nine. After attracting criticism for using disabled toilets, she developed a sign depicting two people with hearts with a wheelchair in the centre, symbolising 'invisible disabilities' that may not always be obvious.
Morrison Construction has shown support for her mission by installing the accessible toilet sign at the new £32 million West Calder High School in West Lothian. 20 of the signs have been installed at the school, which is due to open in August. The project is being delivered by hub South East, with Morrison acting in the role of main contractor.
Grace's Signs have been adopted in various locations including Holyrood and Edinburgh International Airport.
Morrison Construction senior design manager Allan Smith said, "After learning about Grace's Signs we are more than happy to support the campaign. West Lothian Council approached us about the possible use of Grace's Signs on the project to create the most inclusive school we could, benefiting pupils of all abilities who required accessible toilet facilities. 'We are currently planning a wider use and have plans to install the signs at our Wallyford Primary School project in East Lothian.''
Grace, who travelled from Prestonpans in East Lothian where she lives to visit the West Calder High School site added, ''I really enjoyed taking the tour around the new school and seeing my sign already up on doors. I want to help teach other school children about invisible disabilities so I am excited that Morrison Construction will use my signs in two schools they are building.''
West Calder High School headteacher Julie Calder commented, "We are delighted that Grace's Signs will be installed at the new state-of-the-art West Calder High School. It will help remind our pupils that disabilities aren't always clear, and help promote a considerate and inclusive community across the school."
Richard Park, hub South East's operations director added, "Grace is an inspiring young person so it seems very fitting that her signs will be displayed in this new inspiring learning space. We'd like to congratulate Grace on her campaign and we look forward to seeing her signs in other facilities across the country in the future."