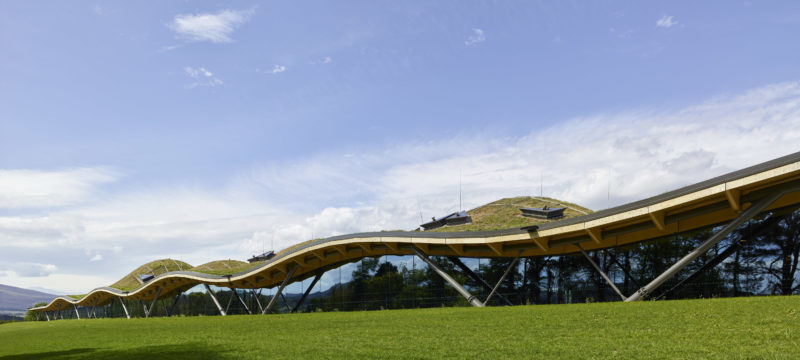 CONSTRUCTION work has been completed at the new £140 million Macallan distillery and visitor experience in Speyside.
Main contractor Robertson, working with 25 subcontractors, delivered the challenging project, which involved up to 400 people specialising in more than 20 different trades being employed on site. Robertson's facilities management business will provide maintenance services at the facility.
Edrington is investing £500 million in the brand, of which the distillery is the centrepiece. The facility will allow for increased production of The Macallan single malt whisky. Architects Rogers Stirk Harbour + Partners were selected to lead the project following an international competition.
Robertson said the "striking" piece of contemporary architecture is cut into the slope of the land, having been inspired from ancient Scottish hills.
The timber roof structure comprises 380,000 components. Robertson explained that each junction and beam has a specific name and has been tested in over 160 different load conditions while 'The Swiss Alpine Design code' has been used to understand the effects of wind, snow and ice on the structure.
Construction started in December 2014. The first whisky ran through the stills in December last year and the visitor experience will open its doors to the public on 2nd June.
A number of specialist consultants were appointed to support the interior fit out including Atelier Bruckner, Concept Bars and Modo+.
Bill Robertson, founder and executive chairman of Robertson said, "This  once-in-a-lifetime project is one that Robertson has been honoured to be part of. The complexity of the construction work required a huge effort from various teams within our business, and their passion and dedication for the project is clear when you see the completed distillery and visitor experience.
"Throughout, we have placed great emphasis on understanding The Macallan's vision for their Speyside home and there has been a real spirit of collaboration between us and all other partners. We congratulate The Macallan and hope visitors to the area enjoy this world class distillery."
Graham Hutcheon, managing director group operations at Edrington added, "The successful construction of this exciting new distillery and visitor experience has been made possible through hard work, commitment, innovation and collaboration driven by our team. Our partners Robertson, Forsyths, and Rogers Stirk Harbour + Partners have been with us every step of the journey and the success of the project has been due to their dedication, professionalism and unwavering commitment to excellence."
Graham Stirk, senior partner and lead architect at Rogers Stirk Harbour + Partners commented, "The Macallan estate truly is a special place; a place we have come to love and respect hugely. The vision was always ambitious but this enabled us to challenge our own thinking to create something so dramatic and awe-inspiring. It has been an honour to play our part in shaping the next chapter for The Macallan."