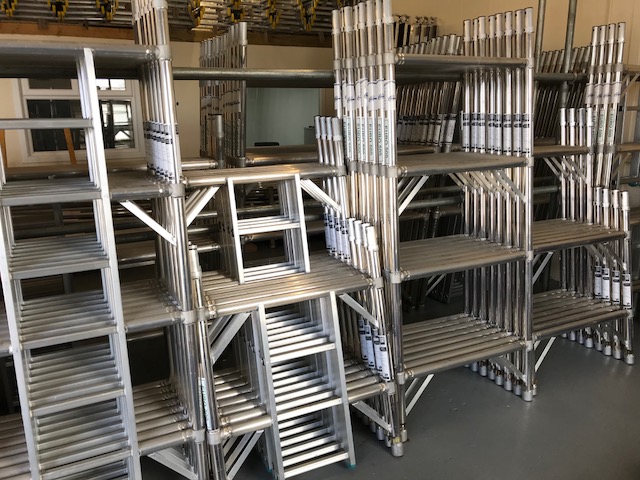 GLASGOW-based Scaffolding Access & Supplies has added the Euro 500 Alegro Tower System to its rental fleet.
The Euro 500 Alegro aluminium tower offers a double width of 1.45m and a single width of 0.80m. Both ladder frames are available in two, three, four and five rung sizes. It is available in lengths of 1.8m and 2.5m and features multi-start square threaded adjustable legs; a ten-impression crimped joint designed to improve resistance to abuse; an auto locking brace hook assembly; a dedicated semi-integrated ladder; and an increased trapdoor opening for ease of access.
Kenneth Norris, founder of Scaffolding & Access Supplies said the Euro Tower brand was now "competing comfortably" in the market.
"We took on Euro Tower to provide us in partnership with consignment stock and we've been holding consignment stock of Euro Tower for the last year and this year we transferred that consignment stock into our rental fleet," Ken explained.
"Our clients like it; they're using it extensively now. They find it a good, robust hire product. It's also a product that they're comfortable for us to supply and install for them as well."
Ken added that while the product is suitable for all trades, the firm is currently aiming it at roofing contractors, electrical contractors and general fit out contractors.
"We still sell the full range of Euro Tower products, which include their low-level podium products and their various other tower units. For example, their stair access units; their one man tower; their various podiums that they do.
"There's no aluminium tower arrangement that we can't configure or handle through the support of Euro Tower. Even down to the design of specialist applications, which we can do as well."