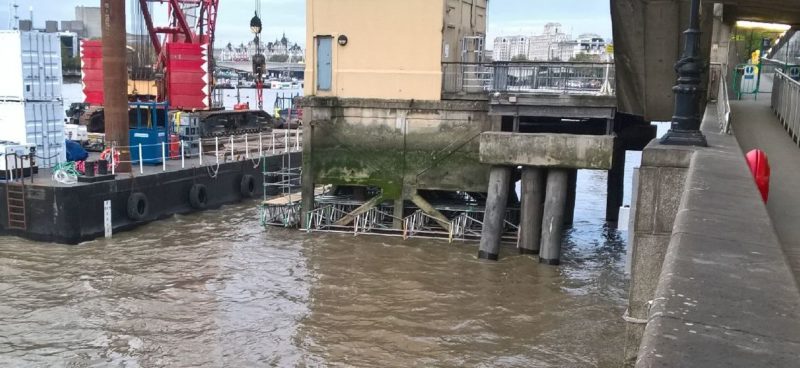 A "highly unusual" bespoke scaffolding solution that spent much of its time partly under water played its role in a recent demolition project on the banks of the River Thames.
The scaffold system, which had to be adapted on a daily basis, was provided by SGB.
Brendan Fox, SGB's southern design manager explained, "This was a challenging project due to the location of the building, which was built out into the river, from a site close to Blackfriars Bridge.
"Fortunately, Tideway knew that we have experience of designing this type of structure for other demolition and construction projects on the banks of the Thames. That experience was a key point in allowing us to create a successful scaffolding solution."
The system included the addition of large steel brackets to the concrete columns on which the building stood. SGB said these were used to support a series of beams which provided a solid base on which the scaffolding could sit.
Brendan added, "This meant that the lower parts of the scaffolding would regularly be covered by water as the Thames ebbed and flowed with each tide, and so the system had to be able to accommodate the force of the water flow."
Due to the presence of the water, there was a requirement for the scaffolding to be adapted on a day-to-day basis, with the on-site team having to remove and the reinstall the toe-boards every few hours.
"The scaffolding had to be constructed in such a way that it could be reduced in height, as the demolition work gradually lowered the height of the building," Brendan added. "The demolition materials had to be removed from the site via the river, so our design had to include various protection and containment features which would prevent those materials from falling into the water. We also had to allow for the presence of a large barge carrying an 80-tonne crane which was floated in alongside the building. Safety is the number one priority for every single project we work on, but the location of this project meant that it was a particularly challenging consideration.
"Once we had finalised our design, it was subjected to a BS5975 Category 2 internal approval procedure. It then had to pass the client's own strict approval procedure before work could commence, ensuring that it offered the absolute maximum level of safety to those people who would complete the demolition work."