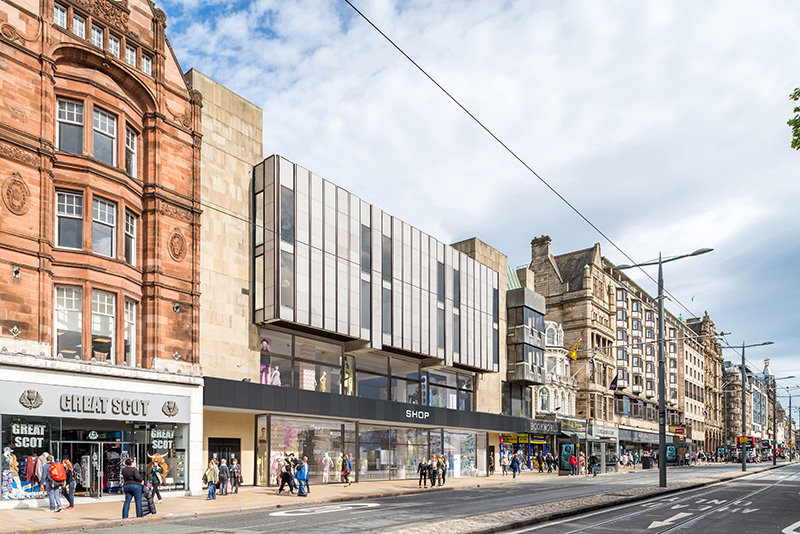 ISG has secured a further two hotels projects in Edinburgh city centre, which will will see the transformation of two "underused" properties and add a total of 417 new hotel rooms to the Capital.
One £20.5 million project will see the former BHS store at 64 Princes Street converted into a 137-bed Premier Inn. The development also includes two new restaurants on Rose Street, and a retail store on Princes Street. Work is scheduled for completion in spring 2020.
The second contract is for a multi-million-pound redevelopment of Erskine House on Queen Street, to create a 280 'cabin' hotel for Starwood Capital in partnership with YOTEL. The design concept has already been launched in New York, London and Singapore. ISG said it will "extensively reconfigure" space within the former office building, including the refurbishment of a large double-height glazed atrium. Facilities will include a luxury gym and spa, and YOTEL's Club Lounge concept, with meeting and co-working space. The hotel is scheduled to open early next year.
Andy McLinden, managing director for ISG's construction north and Scotland business said, "Edinburgh's global appeal as a top travel destination creates significant opportunity for forward thinking developers and hotel operators. Demand for quality hotel accommodation consistently outstrips supply throughout the year, and predictions that 9,000 new rooms will be needed by 2021 to simply keep pace with rising visitor numbers shows the scale of the challenge.
"The city's response has been extremely positive and we're pleased to be playing an active role in bringing a range of international brands into Edinburgh for the very first time. From highly complex new build projects on tightly constrained sites in the Old Town, through to the redevelopment and modification of existing buildings, each of these projects has a unique set of delivery challenges but the common principle that they must all enhance the built environment."
Steve Spray, fund manager at LaSalle Investment Management, which represents the owner of 64 Princes Street added, "We are happy to have concluded a contract with ISG for this important redevelopment which will contribute to the economy and create jobs by bringing a large amount of city centre floor space back into commercial use. ISG has considerable experience with this type of scheme and we are looking forward to working with them."
ISG's hotel portfolio includes the Old Course Hotel and Hamilton Grand development in St Andrews, as well as the Gleneagles Hotel and Cameron House Hotel. The company's upgrade of Trump Turnberry also helped the hotel secure the title of Scottish Hotel of the Year.