THREESIXTY Architecture has moved into its new studio in The Garment Factory, described as a "unique and contemporary" Glasgow office development.
The firm has occupied the entire top floor of the B-listed building, having relocated from its previous office in the city centre's St Vincent Street. The Garment Factory recently underwent a significant refurbishment project, which involved combining the restoration of original features with modern finishes.
Threesixty Managing director Alan Anthony said, "We have achieved considerable business success over the past few years which led to us outgrowing our previous studio. We therefore required a larger premises to accommodate this growth and also allow us the flexibility for future expansion. We knew that we wanted to be in the vibrant Merchant City area of Glasgow and all on one floor, so when the top floor of The Garment Factory became available we immediately knew it was right for us.
"We were familiar with the quality of the space and, in particular, the exposed ceiling with roof lights was a true studio space with no equal in Glasgow. At 8,500 sq ft, it was significantly larger than our requirements, but this has led to some wonderful opportunities to really explore how we could reflect and support our culture and values in the interior design and encourage collaboration.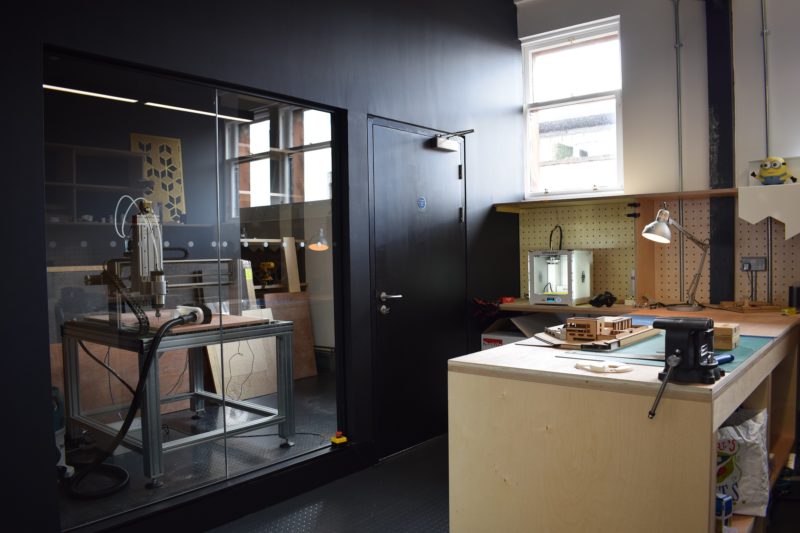 "The design is unique to us with fragments of our projects decorating key positions and it is an elegant backdrop to our in-house poster collection. Given the scale of the space, it was important to bring all our experience to bear to ensure we controlled the budget, and we managed to achieve something quite special that was well below a standard fit-out cost."
Alan added, "We inherited a stunning industrial space with exposed cast iron structure, brickwork and huge windows with stunning long views on all sides – our design seeks to celebrate these features rather than compete. It's a big space and we have worked hard to break the studio up by manipulating the floor plate, using dark tones and introducing textured walls to pull the space in and create intimacy. All of our staff were engaged in the briefing and design with an overriding focus on promoting collaboration and debate. In feel we wanted the warmth and timelessness of mid-century modernism, more Mad Men than Google and definitely no ball pits and slides.
"We are a sociable and culturally diverse group and we like to party. It was key to design a space that could adapt to host events and the hub space is both an auditorium for a lecture, a café and party space with a great sound system and club lighting. Care was taken throughout to showcase our wares and our creativity with the open placement of our well-equipped model making workshop and bespoke presentation cases for our models."