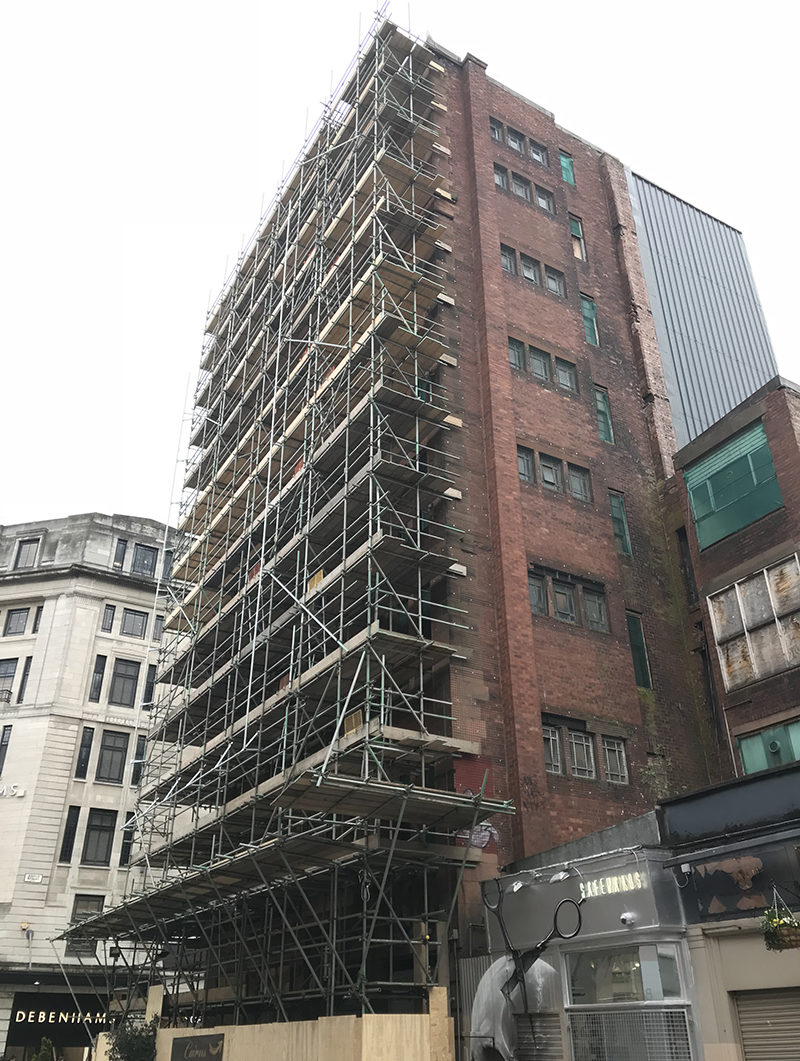 TIMES are tough for the scaffolding sector with the tightening of regulations and increasing costs not being reflected in the amount companies can charge for jobs.
That's the view of Gordon Smith, contracts manager at Scaffrite. While the Inverkip-based family firm, launched in 2010, has had a good start to the year with a large-scale city centre project and ongoing work in the housebuilding sector, Gordon is concerned about the financial and regulatory constraints being placed on the trade.
"Scaffolding faces a challenge," Gordon told Project Scotland. "Regulations are tightening up at a frightening pace and the price that you can charge for scaffolding is not going along with that.
"We're a company that always strives to pay the living wage for employees. However, when you look at the price that we can charge, it is not keeping pace with the increase in costs that we have had in the last couple of years."
Gordon continued, "For example, pensions have now been levied on us; the employer's national insurance rate; and recently rates for council tax and business rates are going up and the price that you can actually charge for scaffolding is not going up to reflect that. Also, hire companies are increasing their rates and so the margins are being squeezed like never before.
"A lot of companies go out to fight for this business and they put their bids in and they're having to go very, very close to the bone and cut things very neatly to win the business and that doesn't tie up with the demands that are being placed on you right now to increase the stringency of your health and safety policy, to make sure your working practices are where they are and to get more competent people and more diligent people working within the industry."
Gordon also lamented what he sees as the "grossly unfair" treatment of scaffolding as a trade and the amount of money scaffolders have to shell out to become certified. He said, "You have a scaffolder who earns £10, maybe £12 an hour; a trainee scaffolder earns £8 or £9 an hour and out of that they're expected to pay for a course for every system that they use, which is incredible.
"They must pay for their basic scaffolding qualifications, which could be as much as £4,000 or £5,000 over a couple of years, and then they're expected to maintain that qualification every five years and after they've done their Part 1 and Part 2 in tube & fitting, they're expected to then pay for a course for every single system that they use, regardless of the fact that all the systems run on basically the same principles and they all have a manufacturing handbook. But no, you have to go and get a ticket on your card endorsed.
"A plumber can get his time served in plumbing and then he can get a gas certificate and that's about it…But he can use plastic pipe; copper pipe; he can use this type of fitting, that type of fitting; whatever he wants. Whereas the minute a scaffolder chooses to use a different tool – a different material to put a scaffold up – he has to get another qualification for it, so I disagree with that entirely."
Scaffrite recently installed a scaffold on an eight-storey category B listed building situated on the corner of Argyle Street and Miller Street in Glasgow city centre. Gordon used this project to highlight how firms can "look at things creatively" in a bid to increase margins.
He explained, "We generally don't build things in tube & fitting scaffolding in Scotland. A simple scaffold like the one on Argyle Street, you would look to build it in system. However, because of the hire rates, because the job is up for a length of time, we took the decision to build it in tube & fitting, which increased the labour cost on the job. However, it saved an awful lot of money on hire. Over the course of the period it was a more viable option."
Remedial work is being carried out on the building, with the timescale for the project expected to be a year. Gordon said that working in a city centre location always proves challenging as it is a difficult space to get scaffolding in and out of.
"Maintaining health and safety for the public is always a priority there. As a result, we borrowed a fair bit of the pavement and had to cordon it off to make sure nothing was going to come off the scaffold and hit anyone. Thankfully we had opted for working practices that prevented things falling from the scaffold."
Gordon added that he was particularly pleased to see the firm's plans and practices it works with actually stand up to the test in a very busy location.
"There were some issues with stone up the top," Gordon went on to explain. "We went from one method of tying the job to another, so we adopted through ties up the top of the scaffold, just to make sure everything was as it should be.
"Normally scaffolders will just bash in and put a tie in wherever they want to, wherever the drawing says that they can, but we had to ensure that we stuck to certain rules. For example, putting the ties through the mortar to try and preserve the building as well as we can. That was part of the decision for using through ties up the top of the scaffold and, at the bottom of the scaffold, it was to make sure that we kept the character of the building and didn't put too many unsightly holes in it or damage the stone in any way."
Scaffrite is also involved in ongoing work with housebuilder Cruden Building and Renewals, providing scaffolding for social housing stock in Greenock for Inverclyde Council.
"In Cruden I think Inverclyde have found a partner that does back local businesses, that does promote for the local area wherever they can and I think that's tremendously important when you're spending local money that you spend at least a good proportion of it with local businesses," Gordon said.
He added, "The area is definitely in need of modernisation. They've brought down a lot of the large high-rises here and as a result they've depleted the housing stock, so the work that Cruden are doing, and doing very well, has been enormously beneficial to the local area."