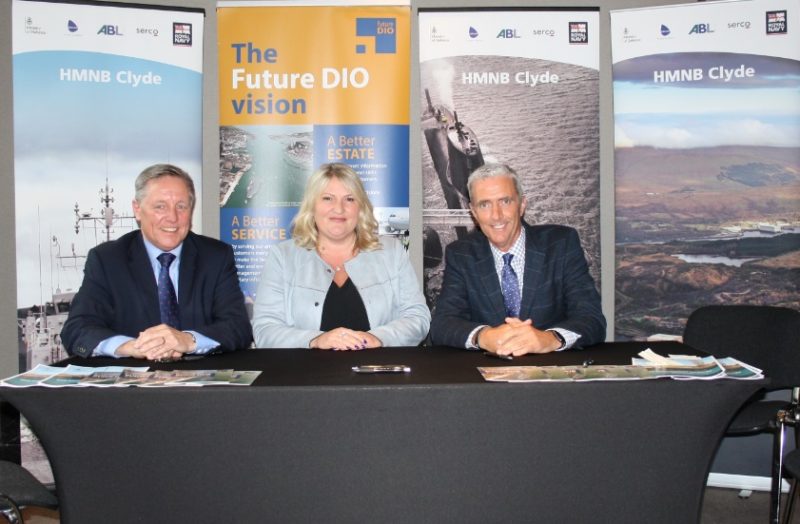 A Kier Graham Joint Venture, VolkerStevin and Morgan Sindall have been announced as contractors on the £750 million Clyde Commercial Framework.
Kier Graham Defence was appointed to the Defence Infrastructure Organisation's (DIO) Clyde Commercial Framework (CCF) to deliver building, civil engineering and mechanical and electrical works to the main HMNB Clyde at Faslane, home to the nation's core Submarine Service.
VolkerStevin will "advise and deliver cost effective construction services and other infrastructure solutions to enable HMNB Clyde to continue to endure in its new role as the Royal Navy's Single Integrated Operating Base", a spokesperson said.
The ten-year programme includes a wide spectrum of project types, typically ranging between £10 million and £90 million in value – this includes standalone, new-buildings such as accommodation and training facilities, through to complex refurbishments on nuclear infrastructure in high security and operational areas.
The CCF supports the DIO's commercial strategy, launched in 2017, and supports the Ministry of Defence's £1.3 billion Clyde programme, which aims to ensure personnel responsible for delivering the UK's Continuous at Sea Deterrent (CASD) are able to live, work and train in safe, state-of-the-art facilities.
Brian McQuade, managing director for Kier Construction, Scotland, commented, "We are thrilled to have been appointed to the DIO's new Clyde Commercial Framework, working in joint venture with Graham. Kier was one of the first companies to sign the Armed Forces Corporate Covenant in 2013, putting it at the heart of its policy and understanding the importance the construction industry plays in supporting the nation's defence and security.
"Together we can look forward to providing high quality buildings and infrastructure to HMNB Clyde, which will allow the Ministry of Defence to continue to carry out its vital operations effectively."
Gary Holmes, Graham managing director, Building Scotland, said, "The DIO's new approach to this major contract stresses the necessity for collaboration, transparency and trust. Securing our place on the framework in the face of major competitor is testimony to the seamless nature of the Graham Defence partnership. Together we understand the complexities of working within secure environments and this appointment underlines our expertise within the defence sector and builds on our combined success in delivering first-class projects throughout the UK."
Rob Coupe, managing director at VolkerStevin, said, "We are delighted to have been awarded a place on the Clyde Commercial Framework. It continues our long association with the DIO in providing key critical infrastructure solutions and we're looking forward to working in partnership throughout this framework."
Ian Arbuckle, DIO assistant head of commercial services, said, "We are incredibly pleased to launch our new framework for the Clyde. We have successfully selected three reputable industry partners who have demonstrated a commitment to delivering better value for defence."
Cdre Mark Gayfer, Naval Base Commander Clyde, added, "I am delighted that we have put in place the framework to deliver the right infrastructure to ensure that we are able to continue to provide high quality support to our submarines and also our sailors and their families for the foreseeable future."