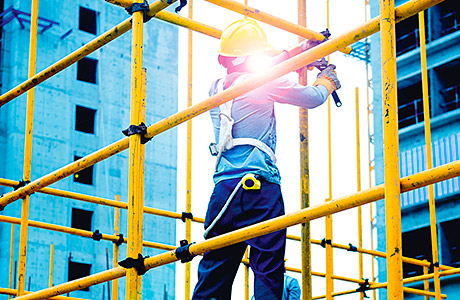 THE number of accidents and injuries recorded by NASC members fell to an all-time low in 2017, with 89 incidences occurring on-site throughout the year.
The latest figures from the NASC 2018 Safety Report revealed that there were 17 major injuries recorded, a 37% decrease on the previous year's figure of 27.
There were 89 incidents in total, down from 96 in 2016. There was also a 46% reduction in falls from height and a 36% reduction in manual handling injuries year-on-year.
Additionally, no members of the public were injured around NASC member scaffolds in 2017.
NASC president Des Moore, who is also CEO of TRAD Group, said, "The 2018 Safety Report shows how workplace accidents can be reduced through compliance with industry safety standards and adherence to NASC guidance.
"It is very encouraging to see that the number of accidents recorded by NASC members fell to a record low in 2017, continuing a long-established downward trend dating back many decades that corresponds with a gradual rise of awareness and implementation of on-site health and safety practices, which continues to this day.
"It is particularly pleasing to look at how far our members have come in just the past five years, with the number of reported incidents having fallen 34% from the 2012 figure (134) and the incidence and frequency rates both down by more than 40%.
"There is more work to be done, however. For the 13th consecutive year, slips, trips and falls on the same level was the most common cause of accident and injury – representing a third of all reported injuries. This type of incident can easily lead to serious injury or even fatality and as such is something we'll continue to seek to address."
Robin James, NASC managing director added, "The NASC is committed to driving up safety standards in access and scaffolding, and firmly believes in the need for accountability and transparency, which is why we go to such lengths to compile and publish the Safety Report each year.
"The data validates our wider efforts to help our members maintain the highest possible standards, enabling them to keep their contracted operatives safe on construction sites across the UK."