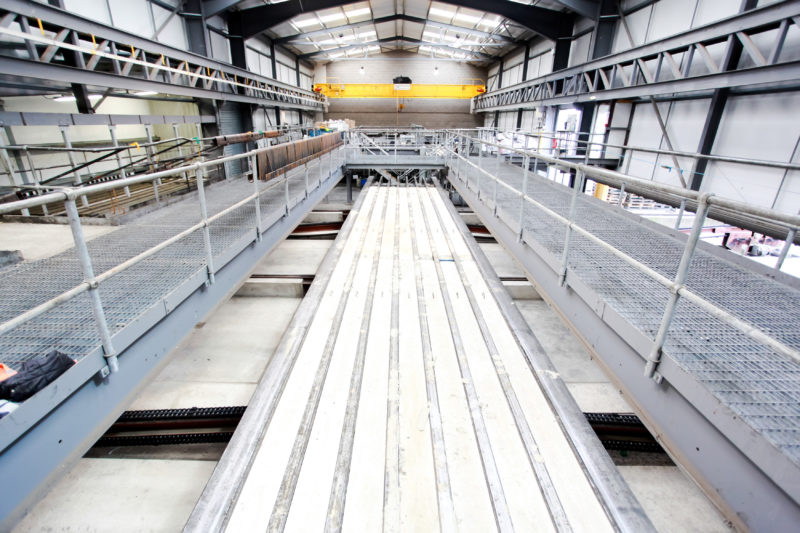 AARSLEFF Ground Engineering says its alliance with Northern Piling has arrived at the "right time" for Scotland's construction industry as it embraces offsite construction methods to help meet the Scottish Government's target to build 50,000 new affordable homes by 2021.
The businesses announced in December that they were forming an alliance to better serve the needs of clients north of the border. The idea was that Northern Piling would remain piling in Scotland, while Aarsleff would provide the geotechnical services and/or retaining structures to complete the foundation package offering. The companies also entered into an agreement that they would offer their joint service for ground beam and foundations in Scotland only.
Both firms have embraced offsite construction through the manufacturing of driven precast piling and precast ground beams. These methods are described by Aarsleff as offering "numerous advantages", ensuring high sustainability standards can be achieved efficiently and at less cost than more traditional construction methods.
During installation, the precast products generate no spoil or hazardous waste to dispose of, which reduces traffic movements to and from sites. Both foundation products are delivered "just in time" ensuring that the ground beams are placed directly onto the piles and don't take up valuable storage space.
The alliance has been assisted by Aarsleff's sister manufacturing facility, Centrum Pile. Centrum has established two precast product factories in the UK, from where it delivers continuously reinforced precast concrete piles and precast concrete grounds beams. The facility consists of a large casting shed containing a mould carousel system and large curing chamber. Another large shed contains two reinforcement cage-welding robots that can produce 400m of cage per hour.
The site also has two concrete batching plants with a combined ability to produce 90m³ per hour.
Northern Piling director Bill Mitchell said, "By relocating a significant proportion of the construction work to an offsite facility, the time spent on site is reduced.
"The more calculable conditions of the factory can also ensure that construction deadlines are met more effectively than in a traditional onsite environment."
Paul Pendleton, Centrum Pile's business unit leader added, "Continual enhancements in our automated factory ensures that the manufacture of the Centrum Pile system maintains the high-quality standards that clients have come to expect in Scotland.
"Our concrete is responsibly sourced and produced to BSI kitemark standard. Furthermore, all materials are tested, and the finished products production data is carefully documented enabling full traceability."
Aarsleff added that both companies are set up to develop projects of any scale so can "very quickly adapt" its systems and delivery techniques to suit the requirements of any ground engineering contract in Scotland. Having its own piling factory means it can turn around the piles more quickly.
Aarsleff director Kevin Hague said, "We look forward to a continued relationship with Northern Piling based on trust and delivering smart sustainable solutions to our valued customers.
"Aside from saving time and money, offsite construction also ensures a high quality finished product and Scotland is very well placed to take advantage of this market."