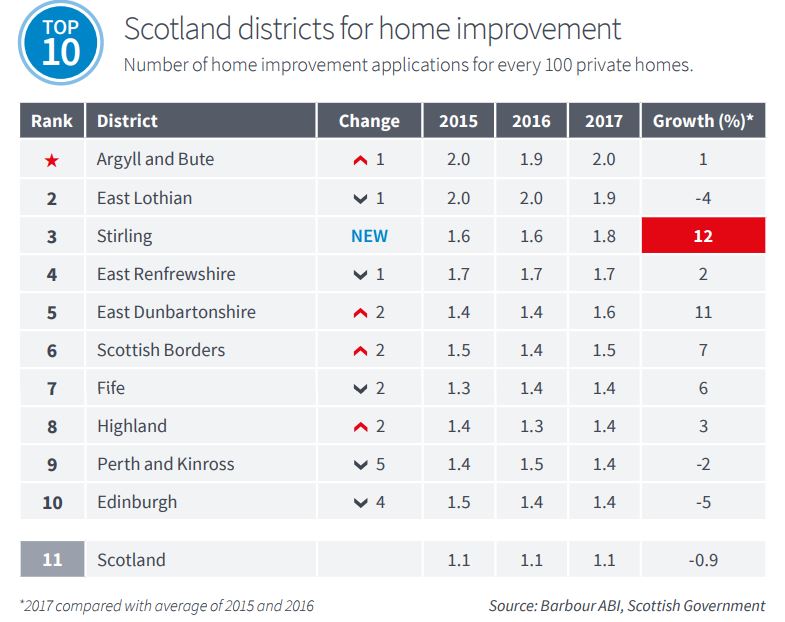 PLANNING applications for home improvements decreased in Scotland last year, according to new research.
The 'Home Improvers of Great Britain 2018' report, compiled by Barbour ABI, revealed that for every 100 private homes, Scotland had on average of just 1.1 home improvement applications, below the British average of 2.1. A total of 22,000 applications were submitted in Scotland during the course of 2017.
Argyll and Bute led all districts across the region with 2 applications per 100 private homes, taking the top spot from last year's leader East Lothian. Out of the top ten districts, Stirling experienced the largest growth in applications – an increase of 12% increase.
Barbour ABI said the "bright" area for Scotland seems to be rear single-storey extensions. Over the past five years there has been a 28% rise in this type of application.
Michael Dall, lead economist at Barbour ABI said, "The low level of home improvement will reflect the lower level of house prices in the nation, which is regionally the lowest outside of north east England. It is also possible that the tendency in Scotland, much of which is sparsely populated, is for fewer but larger than average projects."