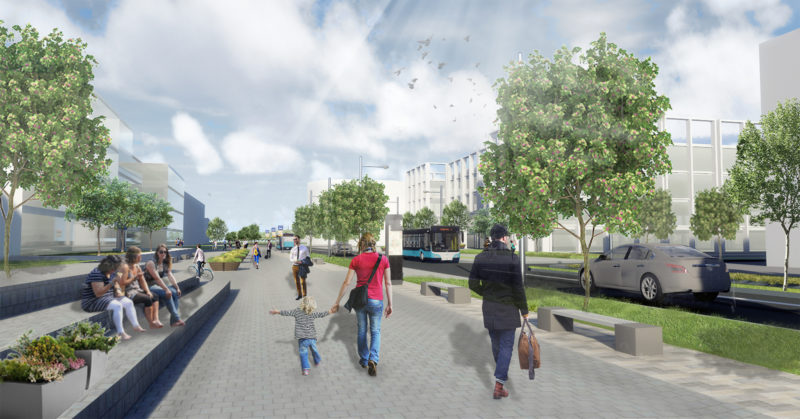 THE regeneration of Ravenscraig looks set to gather pace after developers submitted a masterplan aimed at attracting major investment into the area.
The planning submission follows North Lanarkshire Council's announcement of a £190 million roads programme. Part of the Glasgow City Region City Deal, it represents the biggest single roads and infrastructure investment in North Lanarkshire history.
The planning application outlines proposals for housing, two primary schools, a park and a range of other community and commercial facilities, including retail and industrial.
A new hotel operated by Marston's Inn and Taverns is due to open shortly.
Nick Davies, director of Ravenscraig Ltd said, "The future of Ravenscraig is bright and the new masterplan being submitted to the council is just the latest in a series of positive steps. We are now a step closer to delivering a number of substantial projects which will not only benefit local residents but the wider city region.
"We are determined to attract further investment into Ravenscraig and the ambitious roads programme will play a significant role in this. We look forward to working with North Lanarkshire Council closely over the coming years to deliver on the promise of Ravenscraig."
Members of the public were able to have their say via a series of drop-in exhibitions held by Ravenscraig Ltd. This followed previous consultations hosted by North Lanarkshire Council in 2016.
Des Murray, assistant chief executive for housing and enterprise at North Lanarkshire Council added, "The Council has always recognised the need to redevelop the site as part of our wider ambition for local communities and the area as a whole. Ravenscraig is not just a symbolic site for North Lanarkshire; it's also of significant strategic importance. That's why we have committed to the groundbreaking £190million pan-Lanarkshire Orbital roads investment which will make development at Ravenscraig easier.
"We support any positive moves to create new homes, businesses and facilities. Many parts of the existing planning permission are included in the new application, and the new masterplan will be fully considered by all members of the council."