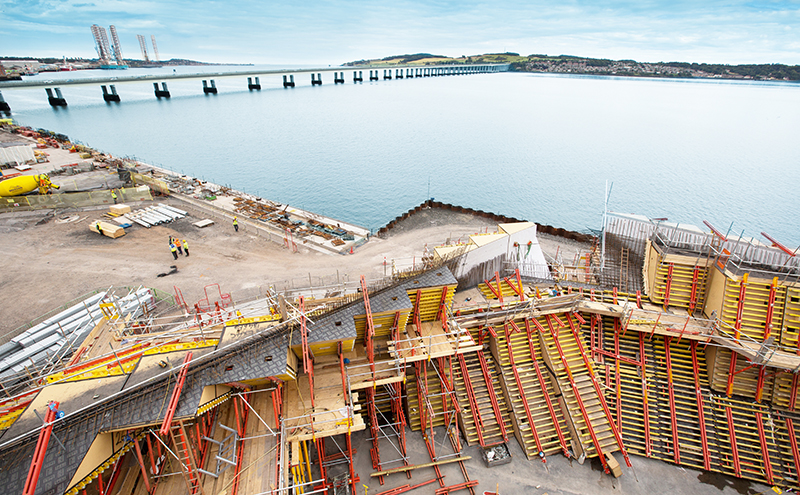 THE long-awaited £80.1 million V&A Dundee will open its doors to the public this September.
The landmark design museum – the only V&A Museum in the world outside London – will provide a centrepiece to the city's £1 billion waterfront regeneration plans and has been tipped to provide a significant boost to both the local and wider Scottish economy.
The three-storey building, built by BAM Construction and designed by renowned Japanese architect Kengo Kuma, will pay homage to Scotland's design heritage and provide a platform for showcasing upcoming creative talent.
With over 20 elevations and a mix of curved and linear facades, precision was key in making sure formwork was able to mould Kuma's design. Careys Civil Engineering and formwork and scaffolding specialist PERI worked in conjunction to ensure coordination between formwork and construction.
The first to be poured, a full size sample panel demonstrated the structure's intricate features on a smaller scale. PERI said the curiosity surrounding design elements such as pigmented concrete and window openings was satisfied once formwork and falsework had been removed, exposing a "smooth, twisted, black architectural feature-finish wall".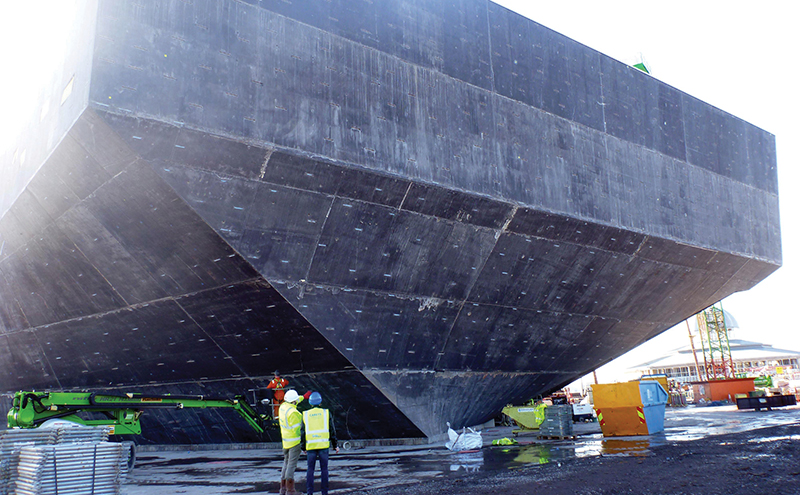 Structural engineer specialists, Arup, were brought on board to render a 3D design model of the building, providing a detailed insight into its geometry. By working with Arup's 3D design model, PERI explained it was able to accurately gauge falsework and shoring requirements.
Offering project-specific construction, VARIO panel formwork was used to shape the unusual external wall formations and produce the desired, smooth concrete finish. VARIO panels combined with VARIOKIT rafters provided a standard 2500mm wide unit, offering variable depth and height to accommodate the unique dimensions spanning the building.
PERI said VARIO provided the flexibility required on a "one-of-a-kind" project. In total, 1,277 bespoke panels were crafted to convey Kuma's vision. PERI had to accommodate individual window openings within the design of fabricated panels. Each panel consisted of two layers of 4mm plywood to create an even finish. Cleats were cut using CNC machinery and positioned within a chipboard grillage, enabling concrete to take the desired shape once poured.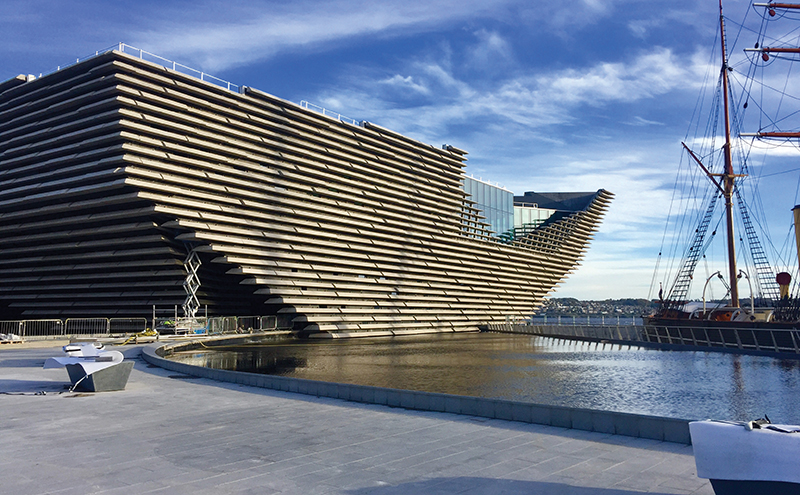 TRIO panel formwork was utilised as a "cost-effective" alternative to render linear walls, reducing formwork costs and erection time.
PERI said, "With steep inclinations and cumulative structural load, using the correct shoring support was vital. The exterior walls were unable to stand independent of formwork and falsework, and so shoring had to support the structure until the roof was installed. Once in place, the roof was able to tie all elements together along with support from the two cores and steel beams.
"A combination of shoring support was carefully designed and positioned by PERI in order to accommodate and support the structural and live load in the most effective way. MULITPROP and heavy-duty spindles were used to hold lower walls in position. PERI UP shoring upheld formwork on the higher levels. Available in modular increments of 250mm, the system provided Careys with the flexibility required to support the assortment of wall formations. Its lightweight and heavy load-bearing capacity offered workers a secure platform for access, egress and installation."
The ambitious design and strict construction schedule posed tough challenges on all parties. Two dedicated project managers from PERI were allocated responsibility of fabrication and technical requirements.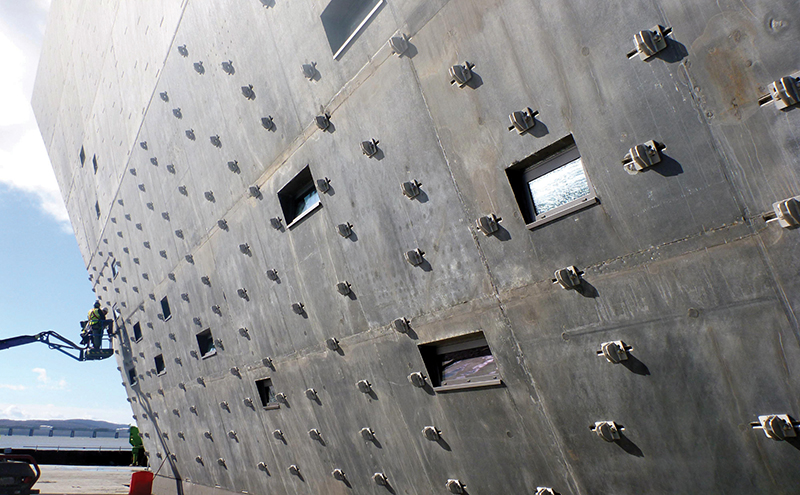 PERI explained that it garnered support from its sites around the UK in addition to employing resources from some of its European subsidiaries in order to produce the quantity of panels required.
At the height of the project, PERI's fabrication team worked to produce approximately 1000m2 of bespoke panels per month. The majority of single-use timber carcasses were cut with CNC machinery in PERI Germany and subsequently sent to PERI UK's depot in Rugby where they were fabricated. The fabrication process comprised the assembly of plywood, VARIO and walers before being delivered to site.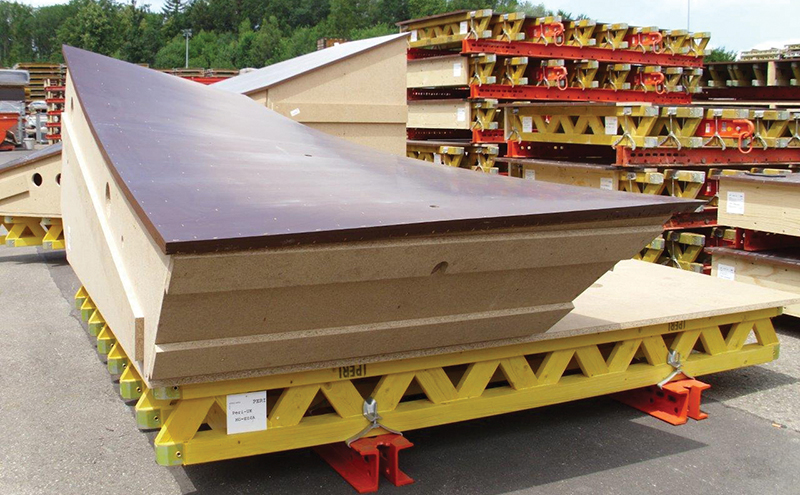 PERI added, "Timely production reduced overcrowding during construction; all fabricated panels were prepared for immediate erection, optimising on-site productivity. Sequenced planning between Careys and PERI resulted in formwork and corresponding falsework being delivered in tandem, in an effort to meet the requirements of the programme.
"In total, PERI's contribution to the project encompassed over 1,500 tonnes of equipment, 1,100 drawings and 1,200 bespoke shutters, demonstrating the significance of freeform formwork in realising the structure. Despite precast stone panelling now enveloping the building, glimpses of the smooth concrete finish can be seen between panels, creating the rugged look and feel of a cliff face."