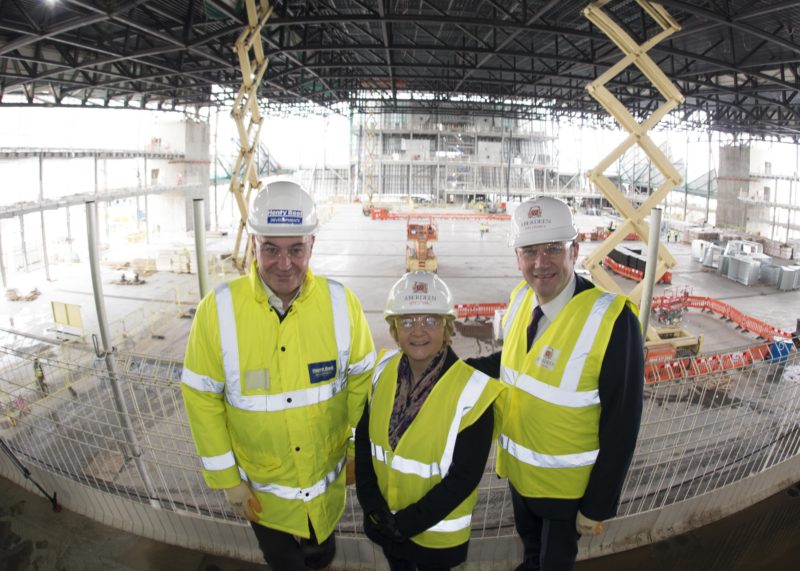 WORK on the new £333 million Aberdeen Exhibition & Conference Centre (AECC) has been described as "progressing well", with the build programme now passing the halfway point.
The main building, which will include the arena, exhibition space and conference centre, is expected to be wind and water-tight next month.
The new facility will feature three conference/exhibition halls, four multi-purpose conference rooms, and 15 meeting rooms. The arena has capacity for 12,500 people and has been tipped to provide a major boost to the Scottish economy.
The new AECC is due for completion in 2019. It is being delivered by Aberdeen City Council along with their Joint Venture partner Henry Boot Developments Limited. Robertson Group is the main contractor.
Aberdeen City Council Co-Leader Councillor Jenny Laing said, "This new £333 million regional facility is a major component of our Regional Economic Strategy, so it is wonderful to see it progressing so swiftly. We are confident that the scale, quality and situation of the new AECC will ensure it competes with the best national and international venues and it will play an important role in helping to grow our local economy."
Co-Leader Councillor Douglas Lumsden added, "We see the significant investment in the AECC as vital to the region's future prosperity. Work at the site is continuing at a great pace and I'm always delighted to see the progress. We are confident the new AECC will play a significant role in ensuring Aberdeen and the wider north-east continues to compete on a global scale by retaining existing international events as well as attracting new events and major artists."
Nigel Munro, regional project manager at Henry Boot Developments Limited added, "We really are at a fascinating stage now, here at the new AECC site, where the shapes of the new buildings have now become clear and things are changing very quickly from week to week as work continues to progress well. I'm really looking forward to watching the second half of the project unfold."