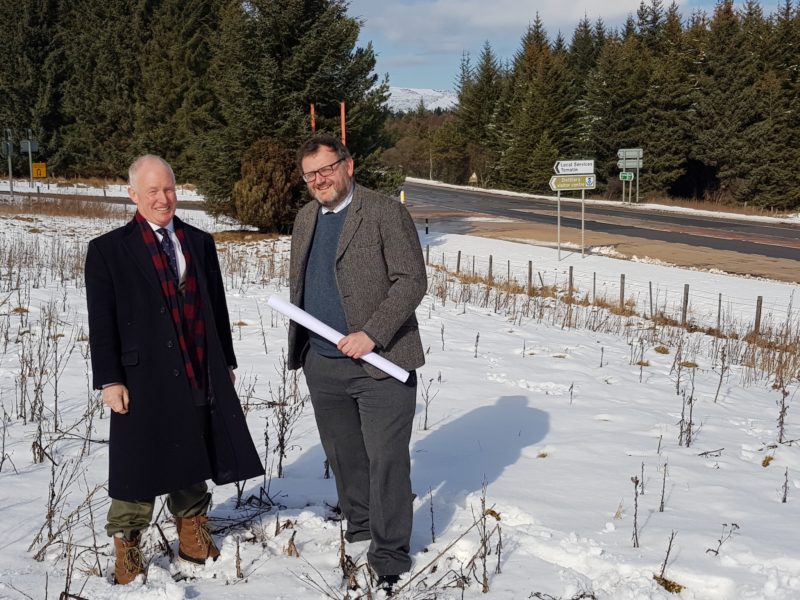 PLANS have been submitted for a multi-million pound hotel, food and retail development village on the A9.
William Frame, managing director of Tomatin Trading Company, has lodged a planning application with Highland Council for the currently disused brownfield site at the Tomatin junction.
The proposals include a 97-bedroom hotel, farm shop and 200-seater restaurant, drive-through bakery and food outlet as well as four retail units and fuel filling station. If planning is approved, the new village would open in 2019. The site already has detailed mixed-use live consent for hotel, restaurant and retail use which was granted in 2007.
The location was once occupied by the Freeburn Hotel, built in 1895. The hotel ceased trading in the 1960s and became a Little Chef before being demolished in 2008.
William Frame said, "This is an exciting new chapter for the site at Tomatin and I remain committed to creating a hotel and retail/food village at this location. I first bought the site in 2005 and believe this is now the right time to take forward our plans with the commitment of Transport Scotland to improve accessibility to the Highlands. The dualling of the A9 will include the stretch in close proximity to the site of the proposed development and the Highlands are an increasingly popular tourist destination.

"There is high demand for quality, affordable hotel rooms within easy reach of both Aviemore and Inverness as well as the many attractions of the area from the North Coast 500, Loch Ness and Cairngorm National Park through to many of Scotland's renowned distilleries.
"The development will showcase the best of the Highland region, from the products in the retail outlets to the locally sourced produce in the restaurant and farm shop, which will represent the best of Scottish food and drink. This offering will be supported by a leading hotel which will tie into the Highland landscape while providing quality, affordable accommodation."
Architect Mark Fresson of Norr added, "Our vision for the site is to create a cluster of memorable buildings appropriate to its spectacular Highland setting. The development will complement the surrounding landscape using a mix of traditional materials such as stone, timber and slate echoing its historic past while looking to the future."
Property Consultant Jack Cadell from Cadell Property said, "The A9 has always lacked a full-service stop providing a wide range of retail and food / beverage choices. The development at Tomatin will provide road users, tourists and local people the opportunity to stop and sample some of Scotland's best in a high-quality village style environment. We have been delighted by the interest we have had at such an early stage by a real breadth of occupiers who recognise and understand the potential of this landmark development."
David Kirkwood, MD of Thomson Bethune Limited added, "We're delighted to act as project managers on this exciting and ambitious new hotel, restaurant and retail development in the heart of the Highlands of Scotland.  It's fantastic to be part of a project that will ultimately boost the local economy, from the construction phase onwards."