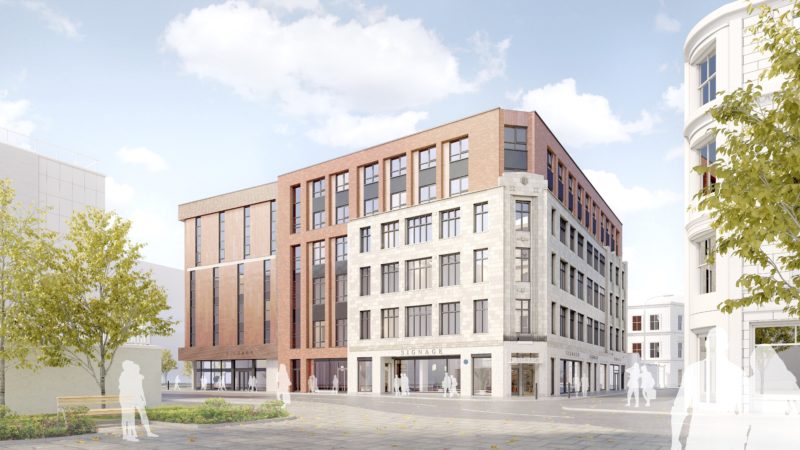 STRUCTURED House Group has received planning permission for a £20 million hotel and restaurant project in Dundee that has been tipped to create up to 300 new jobs.
The B-listed Wilson House on Barrack Street will be demolished and replaced with two hotels and a licensed restaurant under SHG's Boho brand.
The Glasgow-based developer has agreed to retain the 1930s art deco façade of the former Robertson's House Furnishers warehouse which will be converted into a 115-room three-star hotel with a 300m sq ground floor restaurant.
A 110-room, four-star hotel will be located in a neighbouring street to meet growing demand for hotel rooms in the city, with work on the project due to start this July.
The site, which has been derelict for the past six years, was initially earmarked for student accommodation. However, after representations from the local community council and members of the public, the developer has agreed to alter the plans to retain the front of the B-listed building that housed the furniture store for 130 years.
An amended application has now been give the green light by council planners.
Craig Inglis, chief executive of SHG said, "We're delighted that this exciting new project has been approved. It will create up to 300 new jobs and will enhance Dundee's growing status as a tourism and business destination. We have worked with city council planners on our design for the past two years to create a plan that will retain the building's iconic facade and four levels of the shop's front.
"Our amended plan aims to retain as much of the character and charm of the building as possible but to put it back into use so that it can contribute to the economic vibrancy of the city. Everyone respects this fine building but no-one wants to see it lie dormant any longer. Our proposal will give it back its dignity help it to continue its part in the city's growth."
City development convener, Councillor Lynne Short added, "I was involved in discussions with the community group who were keen on keeping the façade as intact as possible. I am delighted about the council's decision and delighted this distinctive piece of Art Deco architecture is going to be maintained."