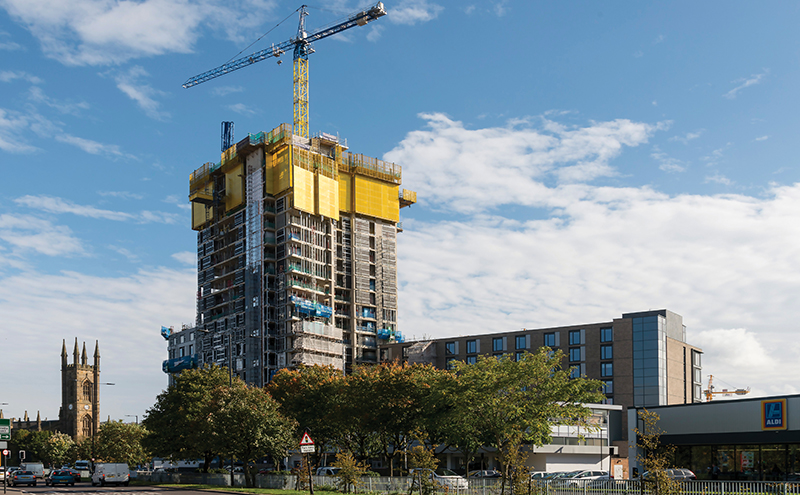 THE first phases in Sheffield's £65 million Chinatown development, New Era Square, are well underway. When complete, the landmark scheme will comprise five blocks of student accommodation, food and drink outlets, an exhibition and conference centre, office space and retail space.
The development was specifically designed so that its penthouse apartments overlook Sheffield United's Bramall Lane football pitch.  New Era has been tipped to become a vital communal and community centre in the city.
Northfield Construction was appointed as the reinforced concrete frame contractor for the project and had worked alongside Doka in their planning and tender processes.
The 21-storey New Era structure was described by Doka as "relatively straightforward" from a design perspective with few steps or balconies.
While this reportedly made the application of the screens and the slabs slightly easier, Doka explained that the post-tensioned requirements have "traditionally proved challenging for modern systemised slab panel systems".
Doka came up with a solution to help overcome this challenge to form 250mm slabs.
The firm's slab, wall and climbing formwork was specified, along with perimeter protection screen solutions.
Doka and Northfield Construction have been working closely together on a number of projects in the UK for many years. Indeed, Northfield was one of the first customers in the UK to invest in the new Dokadek 30 beamless slab panel system after successfully trialing it on another project in Sheffield in 2016.
Key requirements included the deployment of safe, productive and innovative solutions. Doka said these demands "fitted excellently" with the recently launched Dokadek 30 slab panel system.
A statement from Doka said, "The beamless panel not only provides up to 3m2 of hand-set slab formwork in one panel, but also allows for easy to follow installation process from floor level, simple site logistics due to the few components required, Dokaflex infill solutions which require fewer props and last but not least, a 1 metre slab cantilever to accommodate post-tensioning demands."     
Dokaflex tables were used for forming the stepped slabs. Doka said the markings on the H20 beams allow for easy visual checking from ground level prior to casting the slab and can be constructed in almost any formation to achieve more complex floorplans when required. Eurex 30 props were used for the back-propping requirements as the structure progressed.
Northfield also selected the multi-functional Xclimb60 protection screens for this project, installed in a configuration which utilised both Xbright poly plastic panels and mesh enclosures for different levels.
Doka explained that the Xclimb60 screens were chosen in part, due to the extra large sections which can be created, which in turn also reduces the number of anchor points and minimises setting-up during the lifting processes. This was said to speed up and simplify the operation of the screens on the building, and also offered "seamless integration" with the Doka Table Lifting System (TLS) in order to move formwork and shoring equipment to the next level once struck.
Northfield specified the crane lifted option for the Xclimb60 perimeter screens. For the shear walls and column requirements, Doka's Framax system was employed. The steel-framed formwork is crane-lifted. Doka added that because the Framax system only uses "very few" different panel formats, a consistent 15cm increment-grid can be achieved, no matter whether the panels are stood upright or on their sides.
"All the connectors and accessories fit seamlessly into this grid – making for fast forming-times and high efficiency," Doka said. "The Framax on this project was used in conjunction with various climbing formwork systems on the building including the versatile MF240 jump climbing system. MF240 is a simple to operate crane-climbed formwork system also capable of wall inclinations up to 15 degrees and K platforms to provide working access where required."
Mark Sherwood, contracts manager at Northfield said, "We faced some interesting challenges on this particular site due to the small footprint and complex shape of the structure itself, but working with Doka's account manager, Joe McBride and the team of Doka technical experts and demonstrators, we were able to overcome these tests and are really satisfied with the on-site productivity, quality of finish and safe execution of all the formwork operations on the project."