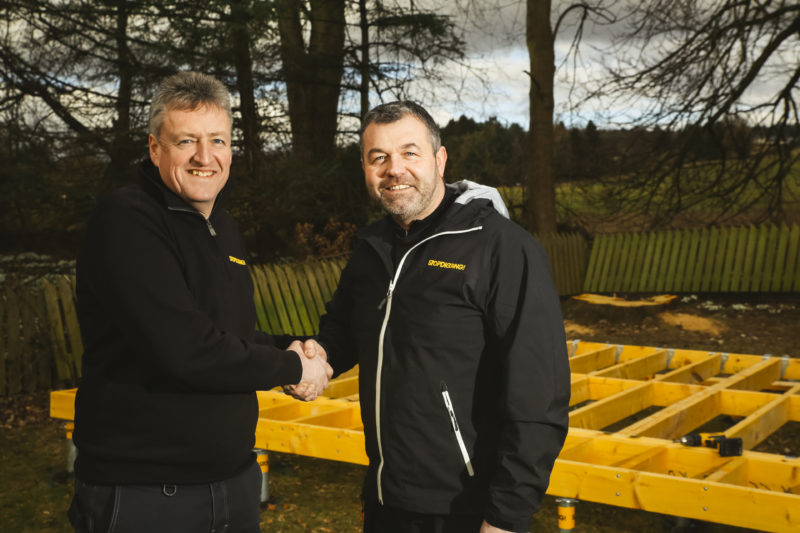 A Dundee-based energy and construction firm has been appointed approved installer in Scotland for a system the company claims is "transforming" the way foundations are laid.
GoSustainable, which offers commercial joinery and building services, is now the exclusive installer of 'Stop Digging',  a supplier and installer of ground screw foundations.
The system, which is said to take just five minutes per screw to install and is cheaper than digging out and casting traditional concrete foundations, provides foundations to suit the structural needs of a range of applications including semi-permanent buildings and temporary structures at shows and events, to home extensions, decking and garden rooms,
GoSustainable managing director Callum Milne said, "We are delighted to be appointed the exclusive installer of Stop Digging for Scotland and believe this marks an exciting stage in what we can offer both domestic and commercial clients.
"The Stop Digging system can be installed quickly, efficiently, all-year round and at a fraction of the cost of conventional foundation systems, even in areas with limited access. Stop Digging also complements our company's offering as a whole and, in particular, our commitment to innovation and sustainability as the system has virtually no environmental impact. There is no digging involved or a need to remove large quantities of existing soil, therefore no mess or waste for landfill, and no need for pouring extensive concrete foundations.
"What's more, with savings on labour time – often from a few hours' work instead of several days – and the ability to keep working whatever the weather, it's also a cleaner and more affordable alternative to traditional foundations – meaning less cost and more convenience."
Stop Digging was founded in the UK by Darryl Gregory in 2014, under licence from the Swedish parent company which has been trading since 2012.
Mr Gregory added, "We are delighted to welcome Go Sustainable to the Stop Digging partner network. It was clear from the first meeting we had with Callum Milne that he recognised the benefits that our system offers in so many different applications and wanted to jump on-board as soon as possible. There is a clear synergy between Stop Digging and the other services offered by GoSustainable, and the staff show a positive, hardworking, can-do attitude – and ultimately they are the face of the Stop Digging Brand and critical to our continued growth."