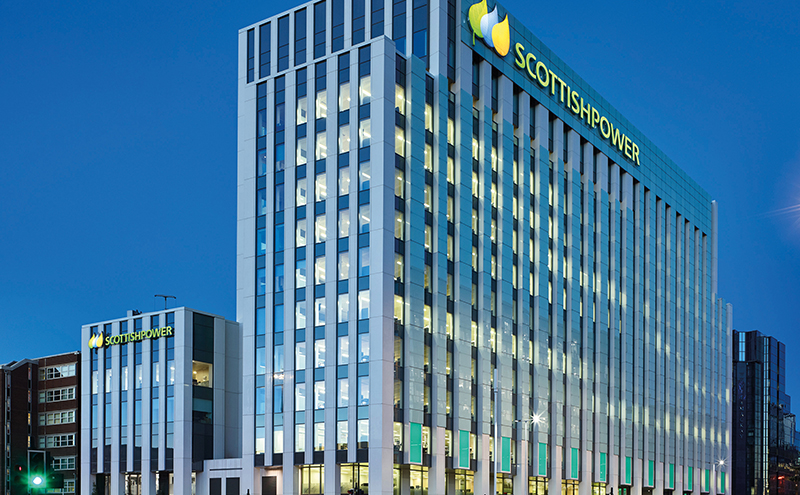 A bespoke Kawneer curtain wall system lies at the heart of Scottish Power's new flagship headquarters in Glasgow city centre.
The largest single-occupier development in the city for around a quarter of a century accommodates some 1,900 staff at the energy giant and was constructed as a replacement for Scottish Power's previous home in Glasgow's south side and offices in Falkirk.
Kawneer said it supplied a system featuring left and right-handed mullions and split transoms to cater for the high movement in the 14-storey, 20,000m2 building.
Other elements supplied by the architectural aluminium specialist include AA720 doors (developed to meet the latest European requirements for thermal performance)  and internal rooflights for two of the floors.
The Kawneer elements on the building were installed between vertical concrete panels by Edinburgh-based façade specialist Charles Henshaw & Sons, who worked with Page Park Architects to address the challenges of this project.
Kawneer explained that it "quickly become apparent" that a standard SSG (Structurally Silicone Glazed) curtain wall system was not going to meet the exacting criteria.
A statement from Kawneer said, "Considerable live load movement was inherent in the building design, and in some places concrete slabs would deflect by +/- 12mm which was too great a margin for standard SSG to accommodate.
"Kawneer's technical team therefore devised the bespoke capped solution based on the manufacturer's AA110 curtain wall with 65mm sightlines as opposed to the AA100 system with 50mm sightlines.
"A gap between the specially-designed transoms fully accommodates the +/- 12mm deflection characteristic of the concrete floor slabs. This expansion joint is used on every two floors, with a straightforward butt joint deployed on each intermediate floor. Additionally, a large 40mm glazing rebate in the mullions allows the glazing to rack in the frame, allowing for sideways movement.
"This tailored solution was fully performance tested at the VINCI technology centre to meet the CWCT (Centre for Window and Cladding Technology) standard for Systemised Building Envelopes Test Sequence B."
Colin Glover of Page Park Architects, who had not used Kawneer systems before, said the manufacturer was recommended by Henshaw and the Kawneer systems were used for the glazing and roof.
"Their part in the project is significant as the curtain wall makes up 50% of the facade," he said. "They were specified for their performance capabilities as it was the only system that could work with the deflection characteristics of the superstructure."