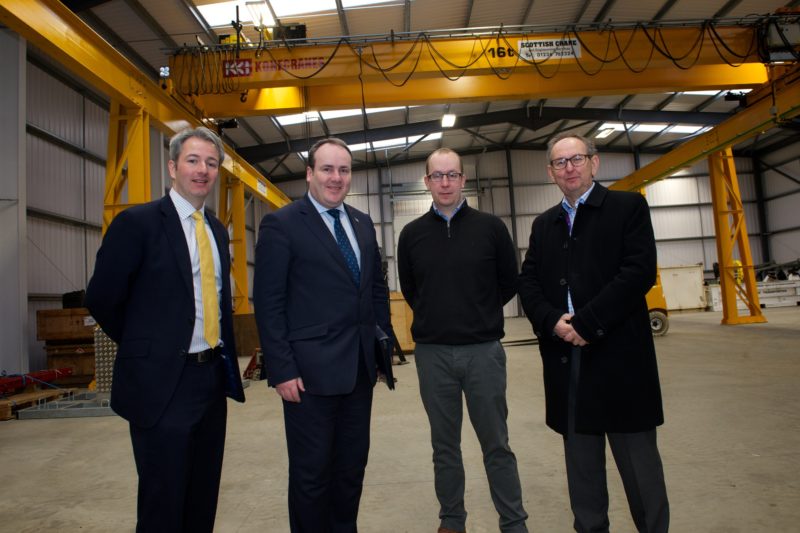 SCOTLAND'S business minister has visited Clyde Gateway as a growing number of firms set up base in the regeneration area.
Paul Wheelhouse MSP, Minister for Business, Innovation and Energy, spoke of how impressed he was by the project.
Clyde Gateway was established in 2008 to carry out the regeneration of 840 hectares across the east end of Glasgow and South Lanarkshire, working in partnership with Glasgow City Council, South Lanarkshire Council, Scottish Enterprise and the Scottish Government.
So far, of the 800,000 square feet of Grade A office and industrial space that Clyde Gateway has developed, over 85% has been let or sold. In the last year alone, two global energy companies – SHARC Energy Systems and TransCanada Turbines – have located their UK workforces in the area.
Paul Wheelhouse said, "The economic and social regeneration of disadvantaged communities is a key priority for the Scottish Government, and we are committed to the Clyde Gateway project which is continuing to deliver positive outcomes on behalf of its communities, which it has done with Scottish Government financial support since 2007.
"I have been very much impressed by the exciting work being done by Clyde Gateway to bring derelict land back into use, enable quality new build premises and homes to be constructed, and to bring businesses to the area and encourage local businesses to grow. Clyde Gateway are doing a great job in creating new, sustainable employment opportunities for local people and delivering on inclusive growth across the area and I wish them even further success in the future."
Clyde Gateway chief executive Ian Manson added, "It has been a pleasure to welcome the Minister to Clyde Gateway and show him why the regeneration of this area has been so successful to date. Companies tell us they are being attracted by the quality of business space, the excellent transport links, the cost savings compared with city centres and the business support on offer. The fact that a workforce of 1.5 million live within a 60 minute commute of Clyde Gateway also makes recruitment easy, which is an added bonus."