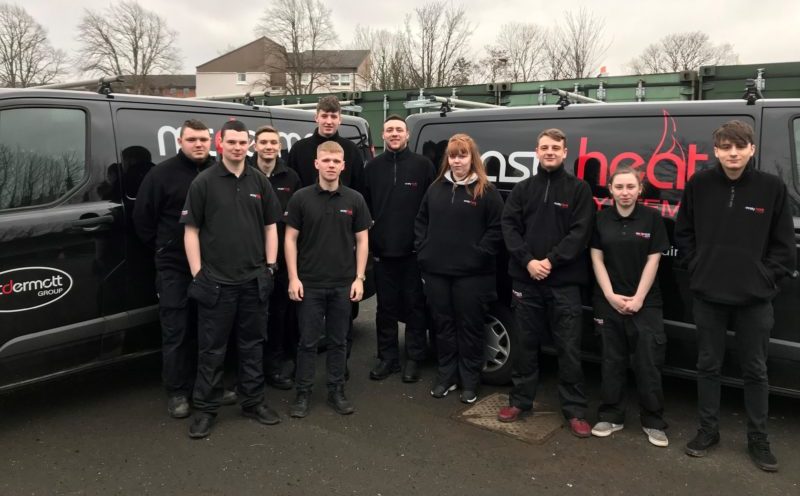 TEN young trainees from Glasgow and Inverclyde have received 18-month placements with building contractor McDermott Group.
Upon successful completion of the work placement and professional qualification, each of the trainees will be offered a permanent position with McDermott Group.
All ten were placed with the company by national charity Action for Children Scotland, which works with children and young adults from disadvantaged backgrounds. The trainees will learn key skills while training as domestic energy assessors.
In partnership with Action for Children Scotland, McDermott Group is also supporting a literacy course for trainees that have left school with little or no qualifications.
Maria Williamson, children's services manager at Action for Children Scotland said, "We are really grateful for all the support that McDermott Group has provided to our employability services in Scotland. Every day, we work with young people who face challenges securing sustainable employment, in order to get them job ready. In addition to providing industry-led training and certification, a key to our success in securing employment and training for some of the hardest to reach young Scots has been relationships like this one. Through working with companies like the McDermott Group, we have been able to offer young people specialist training, on-site experience as well as a route into full-time employment."
McDermott Group managing director Darren McDermott added, "Too many young people in Scotland are leaving school with little or no qualifications and are struggling to get on the career ladder as a result. That is why we decided to work with Action for Children Scotland and give young people, who may have had an unconventional start in life, a helping hand onto a rewarding career path.
"Each of the young people we have taken on has brought something different to their respective roles, and it is hugely rewarding for our existing staff to see these young people begin to flourish with the correct support and training in place. Part of this is through the literacy course that we are supporting, which helps the trainees develop and hone their literacy skills and gives them a better chance of achieving their professional qualification at the end of their placement with us, after which we hope they will stay on in a permanent role."