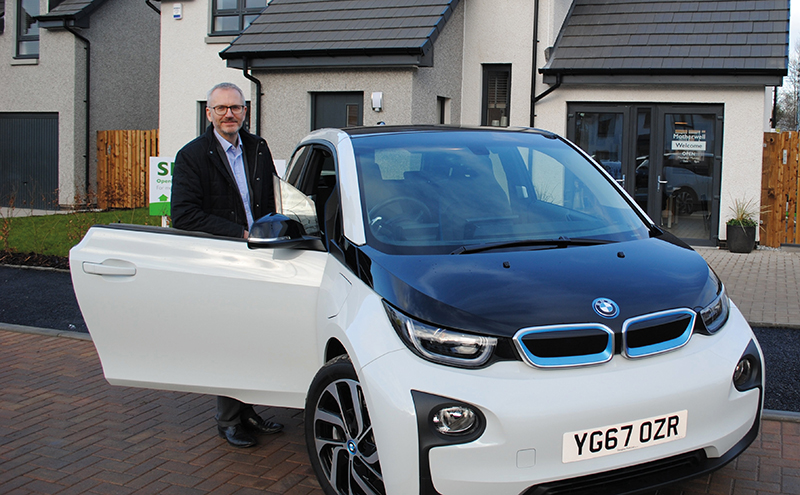 ELGIN-headquartered housebuilder Springfield Properties has unveiled its latest environmental measure in a bid to 'future-proof' new homes.
The business is installing the relevant cabling and wiring in all new properties to make them suitable for electric car charging points.
Springfield chief executive Innes Smith told Project Scotland the move was just the latest in a series of green actions carried out by the company on new-build homes.
"I've got young children; I can see that fuel is running out," he said. "We've got a sun that's going to carry on burning for four billion years so we should really be trying to make the best use of the energy we have just now and utilise the rays we get to power us going forward.
"A number of years ago, we introduced solar PV panels as an extra for our houses and offered that as a choice for our customers. We put them on all our show homes. We then, over a number of years, have been developing closed panel kits for our houses so they are as efficient and retain as much heat as possible.
"We recently took a decision that we would use a hybrid boiler system to heat our houses so that the customer is making the most efficient use of energy and ultimately saving on bills.
"We could see that it was a matter of 'when', not 'if' electric cars (become commonplace). The Scottish Government has made some quite big pronouncements on what they're hoping to achieve.
"We have already installed the actual electric charging points at both of our offices in Elgin and Larbert so that our staff can charge cars. It just seemed like an obvious thing, so we looked at how we could get our houses ready for this going forward."
Innes explained that Springfield couldn't provide the charging point itself, as they can't apply for a grant towards the installation cost on a customer's behalf. However, by incorporating some 7KW of cabling to the most practical point in the home, house buyers will be able to more easily install a charge point in the future if they so wish.
"I do strongly believe that as soon as the technology becomes more efficient than petrol or diesel, it will very quickly ramp up," Innes added. "This is about giving our customers what we always try to give them: houses that are suited to them, not us."
Innes revealed the idea for this latest initiative came from two of the firm's architects.
He compared the process of buying a new home to buying a car, given the number of modifications people can make. "Everything's becoming more consumer focused and that's a good thing. We don't do this to give ourselves a business advantage; we do it as it makes sense to provide a product that the customer loves."
Some of the first homeowners to benefit from this latest initiative will be the residents in Bertha Park, the new 3,000-home community planned for the outskirts of Perth. The new village is located close to the A9, which the Scottish Government plans to turn into an "electric highway", with car charging points situated along the road.
Innes believes the Scottish Government has taken a "very proactive view" towards embracing environmentally friendly ideas and currently leads the UK Government when it comes to green measures.
He also cited the "sea change" currently taking place over the public's attitude to plastic waste as evidence of how quickly environmental matters can take hold.
"When I'm now out shopping, I try to avoid things that are wrapped in plastic," he said. "The human race, we are absolutely ravaging this planet. At some point we've got to realise there are limited resources and make best use of what we've got."